Refer A Friend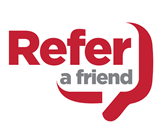 Help your mates get a tax refund - and get an extra £50 in your own pocket!
£50 for everyone you refer that claims with us (T&Cs apply)
£150 bonus if 5 people claim
That's £400 in your pocket for helping out your mates
Plus if you refer before 30.06.18 you could win £1,000 cash or one of our cash prizes*
Find out who the 10 lucky winners of cash prizes worth £2,250 and a brand new iPhone X were in our 'Winter' Refer a Friend prize draws.
Who can claim?
Not sure who to refer?
Anyone who pays to travel to temporary work sites or bases.
Temporary counts as 24 months.
Think about your workmates - are they working in different locations on a regular basis?
You can refer anyone to us that you think we can help. 
If you're not sure, have a chat with them and ask for details.
Over 80% of people who are referred to us are due a refund, so there's a good chance that people you know are missing out on money that could really make a difference.
Still not sure? Contact us on Facebook, Live Chat or call us on 01233 628648.
Next steps
What happens next?
We'll send your friend a one off email or text to let them know that you think we could help them.
If they get in touch and claim a refund, we'll send you £50.
You can help speed up the process by telling your mate to look out for our email or text & get in touch with us!
Customer Stories
What's the maximum I can earn from the scheme?
There's no cap on how much you can get. One of our top referrers is Simon Wakelin, a scaffolder from Birmingham. He's earned nearly £2,000 so far by letting people know they could get a tax refund through RIFT. He says:
"I've been a client of RIFT's for a couple of years, so I know first-hand that they do a great job. So when I heard about their Refer a Friend scheme, I knew of a few friends they could help and we'd all be onto a winner. Each new site I go to, I let the guys know about RIFT and the rewards soon add up. I'm saving for a deposit for my first house and the extra cash is really helping."

We pay out each week, so that's a handy bit of extra cash for whatever you want. It could mean a few drinks at the local, match tickets, or saving up like Simon for something bigger!
Referral Payments
Why haven't I had my referral payment?
We pay your referral rewards once the person you referred has made a successful claim with us.  
The first thing to do is check with your friend if they got in touch and started a claim with us.  If they didn't you, you can always encourage them to get started.
It might be that the person you referred either wasn't owed anything by HMRC this year, decided not to use RIFT, had already been referred by someone else or didn't use your reference number when they first got in touch us.
If they've started their claim, that's great news for you both as they'll be getting a refund and you'll be getting your reward. As you'll know from your own claim, the process takes around 10 weeks after they first get in touch with us to getting their refund paid.  As soon as they get that refund, though, you'll get your payment.
If they did use the link we sent them and they've had their refund payment but you haven't got your reward then please get in touch with us right away.
The Latest
Keep up to date with the RIFT Tax Refunds blog