Refer Your Friends
Cash in your Contacts to help your friends get a tax refund - and you get an extra £50 in your own pocket!
£50 for everyone you refer that claims with us,
£150 bonus if 5 people claim* - that's £400 in your pocket for helping out your friends. Just fill in the form below with your friend's details.
Our Prize Draws
You will be entered into our Bronze, Silver and Gold prize draws where you can win £150, £300 or £500 cash*.


Our Star Prize
Refer your friends before 30th June 2019 to be in with chance of winning Apple iPad Pro*.
OUR WINNERS
The winners of our most recent RIFT Refer a Friend Prize draw  have been selected at random and sent their prizes! See our winners.
New - Magic Moment
Magic Moment is a surprise reward given out to a randomly chosen customer who referred a friend to RIFT. The prizes are based on what you have previously told us you would like to win! See more on Magic Moment
We've had a great response to all of our prize draws so far, so get involved and tell your friends about RIFT Tax Refunds.
Find out more below

Prize Draw Details
How Do I Enter?
It's easy – in fact, we do it all for you!
There are three levels of prizes available in the draw and what you can win depends on how many people you've referred to us that have gone on to use RIFT to claim a tax refund. On the closing date for each season we will check how many referrals you've made and whether you qualify for the Bronze, Silver or Gold prize draw.
You get 1 entry in the draw for your level whenever we submit a claim for someone you referred. Each level has 1 prize. On top of that, there's an extra star prize that everyone gets an entry for*! Find out who have been the previous lucky winners of cash prizes worth £2,250, a brand new iPhone X, £1,000 in TUI holiday vouchers and £1,000 cash.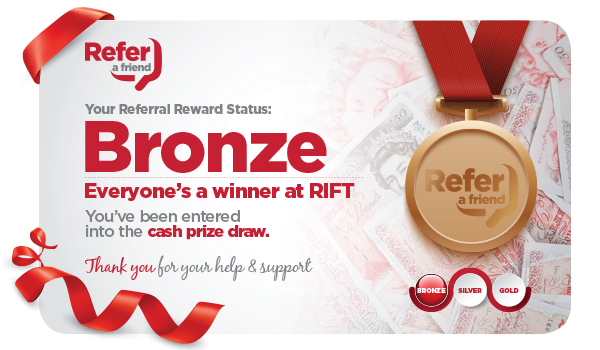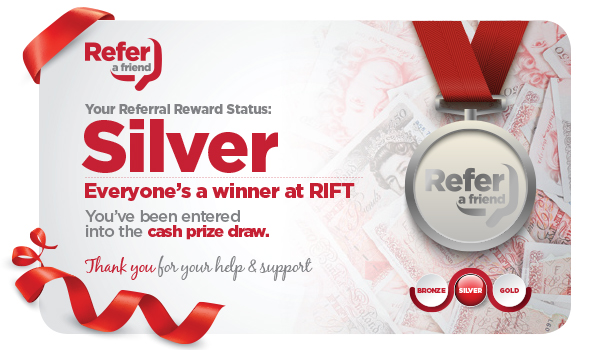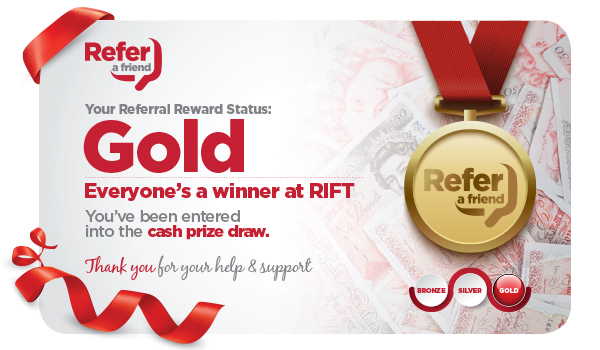 Next steps
What happens next?
We'll send your friend a one off email or text to let them know that you think we could help them.
If they get in touch and claim a refund, we'll send you £50.
You can help speed up the process by telling your mate to look out for our email or text & get in touch with us!
Filter by category
Armed Forces
Construction CIS
General
meals
meals Armed Forces
meals general
MyRIFT
Offshore
Prices
Refer A Friend
Self Assessment
Sports
Tax Codes
Tax Refunds
Tax Returns
Top FAQs
Customer Stories
What's the maximum I can earn from the scheme?
There's no cap on how much you can get. One of our top referrers is Simon Wakelin, a scaffolder from Birmingham. He's earned nearly £2,000 so far by letting people know they could get a tax refund through RIFT. He says:
"I've been a client of RIFT's for a couple of years, so I know first-hand that they do a great job. So when I heard about their Refer a Friend scheme, I knew of a few friends they could help and we'd all be onto a winner. Each new site I go to, I let the guys know about RIFT and the rewards soon add up. I'm saving for a deposit for my first house and the extra cash is really helping."

We pay out each week, so that's a handy bit of extra cash for whatever you want. It could mean a few drinks at the local, match tickets, or saving up like Simon for something bigger!
The Latest
Keep up to date with the RIFT Tax Refunds blog