The RIFT Roster: Shaun Micallef-Green​
03rd March 2022
How did you get here?
My association with the military began when I joined the Army as a private soldier at the age of 21. I became a first class German interpreter, and spent a number of years working in a liaison role with the German police and Armed Forces. Having worked my way through the ranks, I was eventually commissioned into the AGC(ETS) as an Officer and teacher.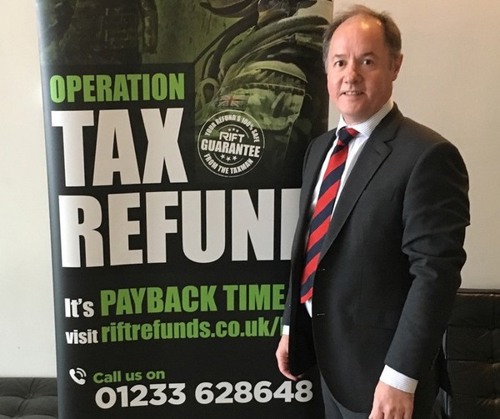 After leaving the Army, I completed an MBA at Cranfield School of Management, before founding an educational business, via which I delivered a service to primary schools and parents in UK and internationally via the internet, including in the USA, Africa, Europe and Asia, enabling them to assess and develop children's learning in Maths, English, Science and ICT.
Since then I have completed a number of marketing and commercial roles at senior management and Director level in the Holiday and Leisure, automotive, and Defence industries. My association with the military resumed in 2014, when I became the head of SaBRE, which was the precursor to the DRM (Defence Relationship Management), where I was subsequently employed as the Marketing Director. I originally joined RIFT in a marketing and commercial role, but given the number of military personnel supported by RIFT, I soon moved on to other areas, where my background and experience might be put to best effect.
Why did you choose RIFT?
Given that I had previously started and run a family business myself for a number years, the profile of RIFT Refunds was instantly attractive to me. It is evident across the business how hard RIFT have worked, and continue to work, to establish and maintain an excellent reputation as a caring business which strives to put their clients at the centre of all their activities.
Having seen and become part of the working practices at RIFT, it is no surprise to me how they have become the long term market leader in their industry, delivering a level of service others struggle to achieve. The business ethics and integrity demonstrated throughout RIFT are commendable, and as such this is a company with which I decided I was happy to associate my own hard earned reputation.
I also felt there was a good fit in terms of having something else to offer RIFT myself, given my mixed military and commercial background, in particular in light of the fact that RIFT provide a service to so many serving and retired military personnel.
What do you do day-to-day?
My activities vary significantly from one day to the next. I work closely alongside the RIFT marketing department, supporting the internal familiarisation of the military community, and development of the marketing and communication strategies.
I am analytical by nature, and spend a fair amount of time scrutinising our existing and potential activities, in order to identify opportunities to enhance performance or introduce new activities, which are focused on the growth of the business.
I directly coordinate and support the military liaison activity for RIFT, working closely with Astra Fraser, the RIFT Armed Forces Liaison Officer, attending a number of unit events, designed to raise tax awareness within the community.
What's the most rewarding part of your job?
Success! Developing and introducing a new or revised activity or strategy for the business, and seeing it go from the drawing board to reality, resulting in an improved service for clients is incredibly satisfying. Building relationships and seeing them come to fruition in terms of raising awareness for clients on how and when they can claim money from HMRC is very fulfilling. Gaining positive feedback from clients benefiting from a service, and seeing the effect the feedback has on colleagues who have worked hard to provide a quality service is amazing.
Where can people find you?
As part of my liaison role, I am always happy to visit clients, colleagues, or units wherever they might be based.
You can connect with me on LinkedIn or you can contact me directly by calling 07494 175597 or emailing me at smgreen@riftgroup.com.
---