RIFT's Top 10 Sporting Double Acts​
01st October 2019
We told you big things were coming, and now we're finally ready to whip back the curtain. RIFT's Refer a Friend scheme has always been a great way to share the tax refund love. Well, now there'll be TWICE the love to share with RIFT Double Acts!
Yep, you read that right. For the next three months we're changing the Refer a Friend game so that when you send your mates our way for their next tax refund claim:
We're doubling up our prize giveaways so both you AND your mates get rewarded!
We're adding TWO extra prize draws for you both to win!
We're piling on more chances to win than EVER before!
What can I win?
The RIFT Double Act draws begin in October with £125 in Love2Shop vouchers for you AND your friend. Better yet, our next Star Prize is an amazing £1,000 of cash EACH for you and a friend to help cover the cost of Christmas this year. Remember - with RIFT Double Acts, that means BOTH of you get a full grand to splash on anything you want!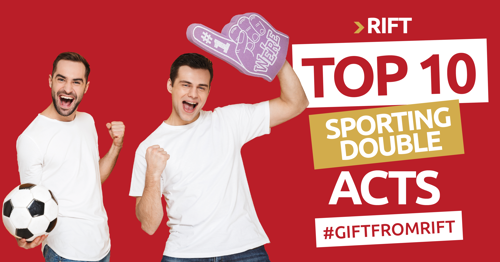 We'll be celebrating some of our favourite double acts in the run up to Christmas, so to kick off here's a run-down of our office votes for greatest Double Acts in the sporting world. Reckon you've got better ones? Let us know. We'll be running polls on Facebook, so sound off like you've got a pair!
RIFT's Top 10 Sporting Duos
Brian Clough and Peter Taylor
Sure, they've had the odd bust-up, but you'd be hard-pressed to name a better managerial pairing in the game. Whether boosting Hartlepool from Division Two to a title win or double-conquering Europe with Nottingham Forest, this pairing was pure class all the way.
Steve Redgrave and Matthew Pinsent
With 1992 Olympic gold success already under their belts, Redgrave and Pinsent did it all again 4-years later. They've definitely rocked the boat – and the rowing world – as individuals, but as a pair they seemed truly unstoppable.
Ginger McCain and Red Rum
Yeah, okay – Red Rum did most of the legwork here, but you've got to admire the ability and dedication of a trainer like McCain. Taking a horse suffering from a serious bone disease to 3 wins at the Grand National takes some doing.
Kevin Keegan and John Toshack
When you talk about double act partnerships, you've got to go a long way to top Keegan and Toshack at Liverpool. A well oiled footballing machine with two moving parts, 100 Keegan goals and several cup wins tell the whole story.
Michael Schumacher and Ross Brawn
Motor racing success takes a lot more than a steady hand on the wheel, and 2 Championship triumphs on the trot in 1994 and 1995 are proof that Schumacher and Brawn had it all. Not convinced? How about another 5 back-to-back titles after they teamed up again from 2000?
Alan Shearer and Teddy Sheringham
2 goals apiece in a legendary 4-1 Euro 96 victory over an on-form Holland – need we say more? Well, ok then The 'SAS' forged a brilliant partnership for England with Shearer scoring 30 times in 65 appearances for the national side, with Sheringham providing the ammunition.
Venus and Serena Williams
No sporting double act list could ever be complete without a mention of the incredible Williams sisters. Again, each of these players is a force to be reckoned with in her own right. Together, though, you're looking at an unbelievable 14 Grand Slam doubles wins and 3 golds at the Olympics.
Michael Phelps and Ryan Lochte
While Phelps gets most of the press for his Olympic adventures, you can't deny the extraordinary contributions of Lochte to their combined success. Between them, they've brought home enough gold to sink a battleship.
Shaquille O'Neal  & Kobe Bryant
Another classic pairing, this time from the basketball court. As teammates, they've won a total of 7 NBA and NBA Finals MVP Awards. While they've both had their share of success apart, they're still a double act for the ages.
Paul and Gary O'Donovan
The O'Donovan brothers from Lisheen took the internet by storm when they "put on the podium pants" to accept their Olympic silver medals in Rio. Their post-event TV interview is a true classic that won them a place in the hearts of rowing and Nutella enthusiasts worldwide.
Score Big With RIFT in October
So, those are our top picks for classic sporting double acts. Why not jump in on our Facebook page with yours? While you're at it, there's never been a better time for you and your mates to partner up with RIFT. Our Refer a Friend Double Acts scheme runs from October through to the end of the year – and with a £1,000 Star Prize each for you and your mate, it could make a world of difference this Christmas.
RIFT are the best teammates to help you score big with your tax refund claims. Maybe you'll splash some of it on a DVD set of your favourite matches or get yourself into training for a Tough Mudder – or even just kit yourself out for the local 5-a-side pub team. Whatever you do with your refund payout, and whoever you partner with for your own Refer a Friend Double Act, you're always in good company with RIFT.
Refer your friends to RIFT right now!
---