A Taxing Challenge: RIFT MD Bradley Post Takes on the New York Marathon​
18th May 2017
If you faintly detect the stirring strains of the Rocky theme song drifting through the Ashford air in the coming months, don't worry. What you're hearing is the beginning of a mammoth training montage as RIFT MD Bradley Post prepares to tackle his greatest challenge: this year's 5th of November New York Marathon.

The New York Marathon is one of the major milestones on the calendar for serious runners worldwide. Last year alone, over 51,000 people completed the full race with an average time of 4 hours, 37 minutes and 38 seconds. That's well over 1,326,000 miles run between them  To put it in RIFT Refunds terms, that amount of mileage would earn you a tax refund in the region of £333,500  – and that's before you even start to count the miles stacked up by those who didn't end up completing the course!

We caught up with Bradley (just barely; it turns out he's pretty fast) to ask him the obvious question: why would an otherwise perfectly sane Managing Director choose willingly to put himself through something like this? Here's what he had to say:
Tell us a little about yourself, and what you do.
Well, my names Bradley Post and I'm the Managing Director of RIFT. I've been with the RIFT Group since 2010, progressing from Sales and Marketing Director and Commercial Director to MD. In that time, I've been focusing on helping the company diversify in new directions, widening our scope in terms of what we can do and who we can help.

That's the key point of RIFT, really. We were originally founded to keep people working in construction from getting stung by the taxman. As the years have gone by, we've discovered so many more things we can do to keep people and their businesses safe and thriving.
That extends even outside of what we do as a company, which is why we work with so many charities.
Why the New York Marathon?
The main point of running this year is to raise money and awareness for one of our main partners, ABF: The Soldiers' Charity. It's an incredibly important organisation, supporting serving and former Armed Forces personnel and their families in times of need.
We're celebrating the 3rd anniversary of that partnership this year, and it seemed an ideal opportunity to mark the occasion in a positive, practical way.

As for how I roped myself into the New York Marathon specifically, well let's just say that it seemed like a good idea on New Year's Eve, and was already a done deal by the time I woke up on New Year's Day...
Is this your first marathon?
Actually, no. I completed the London Marathon back in 2013 with a time of 4 hours and 58 minutes.
That time I did it for The Lighthouse Club, the construction industry charity that we've been proud to support for many years.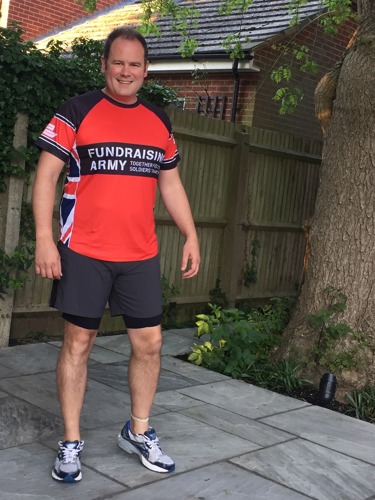 This year I'll be gunning for another sub-5 hour time – but honestly, I'll just be pleased if I can survive the whole distance.
What's your training regimen like? We're picturing lots of manly grimacing and rousing music...
The real work won't be kicking in until the 1st of June. Right now, I'm slowly recovering from a fairly spectacular skiing fall. I've been advised to hold off on any serious running until I'm done with the physiotherapy I need for that. So far, I've largely been  pursuing a revolutionary chocolate-based athletic diet to, um... build up stamina?

Even so, with a 5-month run-up (so to speak), I'm hoping to go in reasonably well prepared. When I was training for the London Marathon, my daughter was born 8 weeks before the race so I only managed to squeeze in 3 practice runs between the birth and the event!
Find out more about ABF: The Soldiers' Charity and how it eases the burdens faced by so many British military families on their website.
If you're in the Armed Forces and are paying to travel to temporary postings or training then you're probably due a tax refund -and RIFT can help you claim it back.
We'll be following Bradley's progress each month here on the blog and on Facebook, so check back to see how he's doing.
---