PPE and the Pink Tax​
12th March 2019
We tackle all kinds of tax at RIFT, but the so-called "pink tax" is one of the strangest we've encountered. Despite the name, it's not actually a tax at all. It's the baffling way that women are expected to pay so much more than men for a whole range of products. Everything from shower gels to footwear. If it's marketed specifically toward women, the odds are it costs more – often by up to 21%.
In most cases, it's an expensive annoyance. In others, it could be flat-out dangerous.
On Tuesday 5th March our own Julia Scott, Head of Marketing, appeared on the BBC to talk about the wider issues surrounding Pink Tax, did you see her?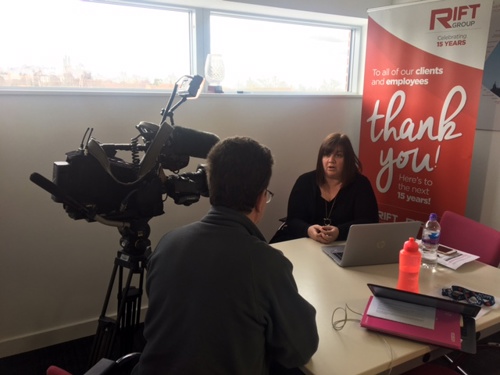 Saving more than pennies
Right now, the Liberal Democrats are proposing new laws to ban the pink tax, and they could be saving much more than just a few pennies if they do.
For a long time, RIFT's Personal Tax Specialists have been noticing discrepancies in uniform-related costs between men and women. Simply put, women are paying more in repair, replacement and cleaning expenses. The more we looked into it, the deeper it went.
Looking at Personal Protective Equipment, for instance, we found that, again, the costs were much higher for women. Keep in mind that we're talking about personal safety here. It's not just about the money. This is gear that actually saves people's lives and if people cut corners due to cost then they are putting themselves in danger.
It's not as simple as just telling women to "buy the men's version but one size smaller" to pay the same, either. Research from trade union Prospect and others found that 57% of women surveyed said inappropriate PPE often gets in the way of their work.
This shouldn't be much of a surprise. Most protective gear is designed to fit men because it's mostly men who use it. The gear on offer is generally designed around the needs and body types of typical European or US males. Because of that, women have a tough time finding appropriate equipment.
Even face shapes can make a huge difference. Basing the size and shape of PPE on assumptions of a "standard" US male face is a massive drawback for women – and a lot of men, too. Gender, ethnicity and even facial hair can all make finding the right gear difficult. The same goes for other types of protective equipment, naturally, from hard hats and eye protectors to overalls, gloves and boots.
Incidentally, those same assumptions about "standard" body types are the whole rationalisation for the pink tax in the first place. Manufacturers claim that the market for "non-standard" sizes is a lot smaller, so they can't sell the gear in the same high volumes. That means they have to crank the prices up to keep their profits steady.
Why higher costs cost lives
Employers often imagine that getting smaller version of the same PPE will solve the problem on its own. The trouble is, that actually causes even more issues.
Some of this stuff needs to be extremely high-precision – like full-arrest harnesses, for instance. The differences between male and female chest and hip proportions can seriously affect the fit of the straps, and therefore the protection they provide.
Even safety boots aren't a simple matter, since women's feet are both narrower and shorter on average. A smaller-sized boot designed for a man just won't be the right fit for a woman.
A quick glance through the website of a popular construction industry gear retailer shows that an average pair of safety boots for a woman costs a full £10 more than the men's equivalent, regardless of size. That's a massive 25% mark-up.
A TUC survey in 2016 produced some pretty damning results on the effects and scale of the pink tax. They reported:
Just 29% of women responding were using PPE that was designed for them.
Those using male gear were overwhelmingly finding it unsuitable.
Trousers were a major problem, with 41% of women saying the pair they were provided wasn't suitable for them.
35% said the overalls they were offered weren't appropriate for them.
Only 85% of women said that their employers even provided them with PPE, as the law requires.
10% of employers don't replace worn or broken PPE, and under 50% don't pay for cleaning it when necessary.
It's very clear that the pink tax has its hooks pretty deep into a lot of UK industries. Measures like the Liberal Democrats' new proposals would be a huge step toward fixing the balance – but until and unless those go through, a tax refund is still your best defence against the cost of your PPE.
If out if you're due a tax refund using our tax rebate calculator. In just a few short questions you'll find out if you're due a refund and get an estimate of how much you're owed.
---