Winning the Rat Race​
22nd December 2017
Life's a marathon not a sprint, we're told. You've got to pick your pace to finish the race. When you're focused on the journey, though (and the mileage you're clocking up, if you're  claiming your tax refunds), it's tough to check your position in the pack.
We're all about crunching the numbers at RIFT. That means seeing the big picture just as clearly as the fine details. As you're passing the milestones of your 20s, 30s and beyond, a glance at the runners alongside you says a lot about how you're doing. Let's take a look at how well people are doing at every stage of the race:
20-somethings: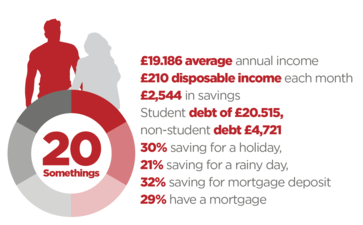 You've grown up in the internet age and have been dealing with "austerity" for your whole working life.
If you were a student, you've got £20,000 in debt on your shoulders and about £2,500 in your savings account. If not, your debts are closer to £4,700.
If you're in the luckiest 30%, you're paying off a mortgage. Otherwise, you're either renting or living with your parents while you build up a deposit.
On average, you're earning a little over £19,000 – almost £10,000 under the national average.
You tend to end up with around £200 of spending money each month and probably drive a Corsa or Fiesta.
30-somethings: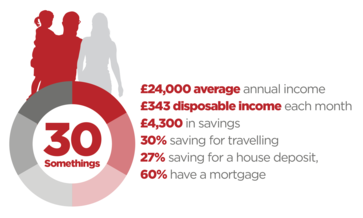 You've seen a few changes since your younger days.
There's a good chance you've got a family coming along, and about a 60% chance of landing a foot on the property ladder.
You're probably earning around £24,000, with close to £350 a month to splash around.
Importantly, you're starting to take your savings seriously. You've stacked up £4,300 on average, and a little over 25% of you are planning on putting it toward a house.
If you've already got property, it probably took over 3 years to put your deposit together on a place worth around £240,000.
You're probably still getting some use out of that Corsa or Fiesta.
40-somethings: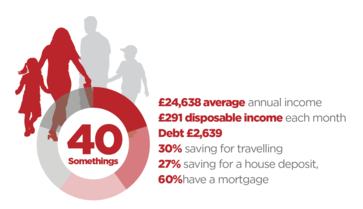 You reached your 40s and you're surprised to discover that life really does begin here.
Married or single, you're probably starting to worry about how much you're saving and you've got around £8,665 in the bank.
Over half of you have kids now, but less than half are as concerned about your pensions as you should be.
Your income's still hovering around the £24,000 - £25,000 mark, with your biggest non-mortgage debts being about £2,600 on credit cards and loans.
In terms of disposable income, you're likely to be playing with about £290 a month.
You're driving something like a Ford Focus.
50-somethings: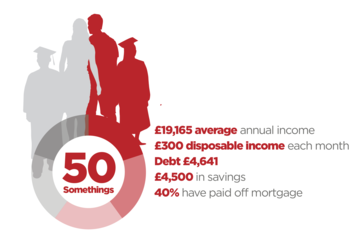 40% of you Baby Boomers have paid off your mortgages by now, so that's something to be proud of.
Almost 1 in 3 don't have a pension, though, which is starting to look like a problem.
Average income is down to a little over £19,000, with £300 or so of that being disposable each month.
Your savings are around £4,500 – unless you're in the 20% with nothing at all in your nest egg.
With that Fiesta you're driving, your financial life actually doesn't look that different from today's 20-somethings.
60-somethings: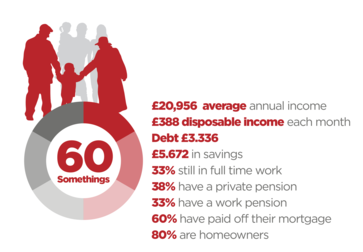 With an average income of £21,000 and £3,300 in loans, overdrafts and other debts, you're taking money seriously now.
Well over half of you have paid off your mortgage, with 7 out of 10 still living in a house you bought in your 20s.
Your average savings come to about £5,700, although almost 1 in 3 have over £10,000 socked away. Either way, you're wishing you'd put more into your pension.
20% of you still work full-time, although you might be dipping into your pension pot already.
A Ford Focus or Fiesta is the most popular runabout.
70-something: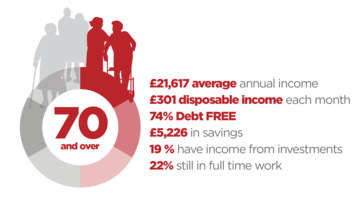 This is the second bout of austerity you've seen in your life, but you're making the best of it.
Over 20% of you are still working, with 1 in 5 having money coming in from investments.
All told, you're bringing in around £21,600 on average, whether from work or your State and private pensions.
You've still got that same old, reliable £300 a month of spare money to splash around. Some things never change, do they?
About 1 in 3 of you still wish you'd saved more carefully in your younger days.
1 in 5 of you never got round to buying your own home, but those who did managed to save up for it in just 2 years!
You've probably got a hatchback of some kind.
So that's the rundown of modern Britain's rat race. How do you stack up in your age bracket?
Remember, whatever leg of the journey you're in, you can always get advice, guidance and practical help from RIFT. We're the UK's leading tax rebate and tax return experts having been in the industry since 1999.
---