What Are You Looking Forward To?​
15th May 2020
What Are You Looking Forward To?
We're all still waiting for the country's wheels to get back up to speed, but that doesn't mean we're stuck spinning our own.  People all over the UK are busy making plans for the things we'll do when the lockdown finally ends.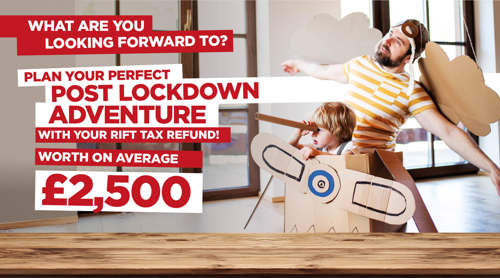 At RIFT, we understand the importance of keeping in touch – particularly when times are difficult. That's why we've been reaching out to our extended family of staff and customers to find out what we're all looking forward to once the restrictions ease up. Here are some of the top answers we got back:
The simple things
Whether it's heading down to the local to meet up with friends or taking the family out to dinner, it really is the little things that count the most. The lockdown's putting distance between friends and even family members, so it's no wonder that closing those gaps is what we're most looking forward to.
Getting away from it all
There's only so much time you can spend indoors, after all. As the weather warms up outside, many of us are dreaming of hitting the road - or even the air - for some well earned time away.  When the lockdown finally ends, expect to see a lot of families heading out on holiday although it's more likely to be a "staycation" than a foreign jaunt.
Blowing off some steam
It's funny the things you miss when you suddenly have to do without them. For a big section of the RIFT family, it's those twice-a-week clanging and banging sessions at the gym that we're dreaming about. Whether you're a heavy lifter or an aerobics enthusiast, we can all agree that it'll be great to get back to our time-honoured routines of running laps, jumping ropes and skipping Leg Days.
We'll meat again...
The humble British barbecue has come a long way since the old days of charred chipolatas and burger briquettes. These days, we're all getting much more adventurous in our outdoor danger-cuisine. To get the best from your braai, though, you really need to do it in good company. That's why a barbecue party with friends is so high on our wishlists right now.
Splashing out
We're not talking about pool parties here – although now that we mention it, we could definitely go for one of those once the crisis ends. For now, though, we mean those chunky purchases we've all been putting off. Up at the top of the RIFT family's post-lockdown shopping list, we find a lot of the usual suspects. New smartphones, big-screen TVs, home appliances, computers and games consoles are all popular daydream material at the moment. With a new generation of consoles on the brightening horizon as the lockdown eases up later this year, it's going to be a good time to be a gamer – assuming we can all stand to be indoors by then.
An average tax refund comes to £2,500 right now, so the good news is you'll have cash to splash with your family and mates after the lockdown ends.
If you've claimed your refund with RIFT before, things couldn't be simpler. Just log into your MyRIFT account and start updating your essential work and travel information for the last year. If you're new to RIFT, just give us a ring or zap us an email and we'll get you all set up. With just a few key details in the bag, we'll get to work on clawing back what the taxman owes you. Meanwhile, you can leave the hassle to us and concentrate on figuring out what you'll spend the cash on.
While you're at it, spare a thought for your mates who might be owed tax back as well. When you refer your friends to us, you get a £50 bonus if they claim a tax refund with RIFT – and that's only the start of the rewards! Check out our Refer a Friend page for the full details.
So what are you looking forward to doing with your tax refund from RIFT?
RIFT are the UK's leading tax rebate and tax return experts who've been in the industry since 1999.  If you think you could be due tax back, check out our tax rebate calculator for an instant estimate!
---