Time to Check Your Tax Code​
24th April 2019
If you're like most people who work PAYE, you probably don't spend a lot of your time worrying about your tax code. With April underway and the new tax year kicking off, you should be getting your new coding notice from HMRC any time now.
When you get your coding notice, it'll look something like this: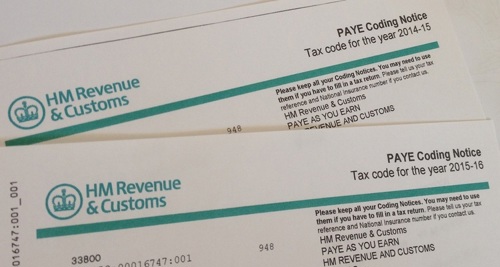 It's well worth paying attention to it when it arrives, too. The taxman's been known to make mistakes from time to time, for one thing, so check it against the tax code on your last payslip and, if you still have it, the email we send to let you know what your tax code should be after we do your annual tax refund.
When they do happen, HMRC's tax coding mistakes can be pretty worrying. In some cases, they can even leave you owing money to the taxman. They can hit anyone, too. In fact, when Labour leader Jeremy Corbyn released hit tax return this year, it revealed a mistake in his tax code that had cost him £6,000!
On top of that, HMRC will sometimes try to estimate the expenses you will need to claim next year and automatically reduce the tax you pay to account for that. This only works if you have identical expenses every year. Most people claiming travel tax refunds have expenses that vary from year to year, depending on the sites you've worked at. If your annual expenses are different from the year before you can quickly end up owing HMRC money this way, through no fault of your own.
You need to understand what it means when your tax code changes, and how it affects you. Here's a quick run-down.
Finding your tax code
To crack the code, simply separate out the numbers and the letters. If you multiply the number by 10, it'll tell you how much of your income is tax-free. The letter(s) after that will describe something about your circumstances. For example:
L The basic tax-free Personal Allowance.
M You're married, and 10% of your partner's Personal Allowance was transferred to you.
N You're married, and transferred 10% of your Personal Allowance to your spouse.
S You're using the Scottish rate of Income Tax.
Y You were born before 6 April 1938, and get a higher Personal Allowance.
T Your tax code includes other calculations to work out your Personal Allowance.
0T Your Personal Allowance has been used up, you don't have a form P45 or your new employer doesn't have enough information to work out your tax code.
BR All your income from this job or pension is taxed at the basic rate (if this is your second job, for instance).
D0 All your income from this job or pension is taxed at the higher rate .
D1 All your income from this job or pension is taxed at the additional rate.
NT You don't pay tax on this income.


If you've got more than one job, you should see your tax code for each employer listed, along with notes on how your tax-free Personal Allowance is applied to them. The main thing for now is to notice if any of your codes look different from normal. If so, for example, HMRC might have changed your code to account for any work benefits you've started receiving or a change in your employment status.
If you do spot a change, or don't understand why you've got a particular code, get in touch. Each year once we've completed your annual tax rebate, we'll check your tax code and make sure it's correct. We'll then send you a confirmation so you know everything's okay. If you think something's not right, though, don't wait for that check. If there is a problem, the longer it goes unfixed, the more you could owe HMRC.
If there's a mistake on HMRC's end, we'll get it fixed as part of your all-inclusive refund service. As ever, there's no extra charge for any of this, and our world-class specialist help is only a phone call or email away. That's why we're the UK's leading tax experts – and why you're always better off with RIFT.
---