The RIFT Roster: Astra Fraser​
19th August 2019
It takes more than just a tax specialist to get the very best from a tax rebate claim. The problem with so many tax advisors is that, while some of them know HMRC like the backs of their hands, they don't fully understand the fields their clients work in. RIFT's teams are built and trained to be the most knowledgeable experts in the tax business. That's why we employ so many people with direct experience in our customers' sectors. Astra Fraser is a perfect example. Here's her personal Road to RIFT in her own words.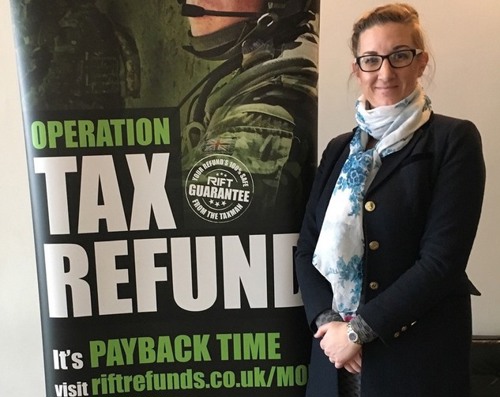 How did you get here?
Before RIFT I was in the Royal Army Medical Corps, which I'd joined in 1999 as a Combat Medical Technician. Prior to that, I'd been in the TA Princess of Wales Royal Regiment while I was studying Art and Design at Hastings College. I've also worked as a Military Liaison Officer for a private school, dealing with Continuous Educational Allowance Services. Children in the military are entitled to 90% funding for private schools, so I was helping to sort out paperwork issues and any problems with the process. While I was there, I helped the school develop its welfare programme, worked in conflict resolution for students and organised social activities.
Why did you choose RIFT?
I went to REFA, the Forces Employment charity and looked into RIFT's profile, people and ethos. It was pretty clear straight away that RIFT were very much in sync with what I wanted to accomplish. They were flexible enough to work around my family situation, and working with the company gives me the opportunity to still be part of the military community.
The chance to make a real contribution to the welfare of Armed Forces personnel was obviously a massive draw for me. I hadn't really encountered a business like RIFT before, but I've always got a buzz from making presentations to people, plus the company itself is very pro-Forces. They've got a genuine understanding of what ex-military people bring to the table.
What do you do day-to-day?
I travel a lot, obviously, going to various unit events to give 15-30 minute Tax Awareness Briefs. I visit health fairs, which are always super-busy. In a room like that which is full of people trying to sell stuff, it's always great to be the one person giving something back. I attend G1 study days covering things like financial and welfare issues, and go to various kinds of Open Days, from air shows to the Armed Forces Weekend in Salisbury (where I got to see The Killers play).
There's a lot of planning involved in all this, of course - liaising with people in regiments, getting feedback and building relationships. Depending on the kind of event, I can often talk to people one-to-one. It's not always easy to discuss personal finances out in public, though, so I make a point of offering to talk further after the event over the phone, via text or email or however suits people best.
It's important for people to know that they're dealing with a real person – someone who understands the world they live in and who'll fight for them. It's about building confidence, and showing that you can take care of the tricky stuff like tax code problems. Bad experiences while "going it alone" can easily put people off trying to claim their refunds. It's a great feeling to show someone who's run into obstacles before that they can still reclaim what they're owed from 4 whole years back.
What's the most rewarding part of your job?
Getting to meet and help so many people is fantastic, as is being part of the Armed Forces community again. Working with RIFT has even given me the chance to meet up with old military friends I probably would never have seen again. I also enjoy working with a large audience, busting myths and misconceptions about tax refunds and showing people how to take control of their finances.
Where can people find you?
Don't worry about it – when you need me, I'll find you!
Seriously, though – you can get hold of me by calling 07508 898142 or emailing me at AFraser@riftgroup.com
What do you find people struggle with the most?
Tax codes are a real trouble-spot for a lot of people, along with learning to stay the course when HMRC's wheels are turning a little too slowly.
There are so many factors that can affect the speed of a claim, and you've got to know how to smooth the path as much as possible. Trying to do it yourself, it's easy to get bogged down in a cycle of hunting down all the information HMRC needs to process a claim and submitting it in the way they want. Waiting for HMRC to get back to you can be frustrating, not to mention applying all the latest rules correctly. Having a tax specialist on your team is a huge help there, particularly if you're often abroad or out on exercises with no internet access.
Tell us a little about yourself
I enjoy camping in my VW T5 van, and do that as much as I can. Whenever possible, I tour beaches all over the country. I've been a Welfare Senior NCO, a Sergeant Major of a Hospital Squadron, a Support Squadron Sergeant Major and a Garrison Practice Manager in a medical centre in my time. I'm also into sculpture and fine art. I love interior design, and have had a matching set of sofas and chairs made up to my own designs, inspired by my old uniforms.
RIFT are the experts when it comes to claiming Armed Forces Tax Rebates.  If you're interested, get started using our free tax rebate calculator to get an instant estimate of how much cash you could be owed from HMRC.
---