The RIFT Rewind: Top TV of 1999​
16th March 2020
We're celebrating the 21st anniversary of RIFT this year. That means RIFT is now officially old enough to legally adopt a child, fly a helicopter or drive a heavy goods vehicle. Instead, we're inviting you to join us in our RIFT Rewind festivities, taking a look back at how far we've come as individuals, as a business and as a country since we set out on this adventure in 1999. This month, we're peering through our Time Telescope at the primordial landscape of 1999's TV listings. What and whom were we watching back then, and whatever happened to them?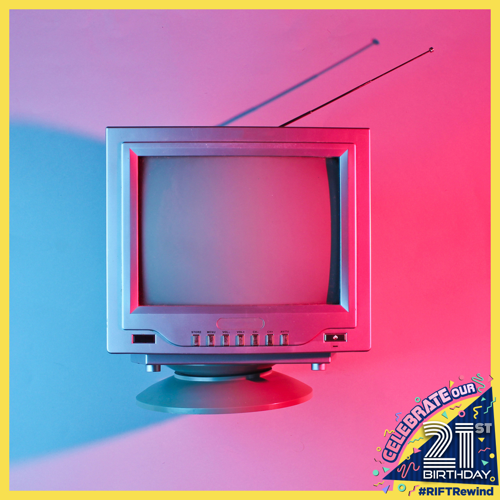 1999's top show.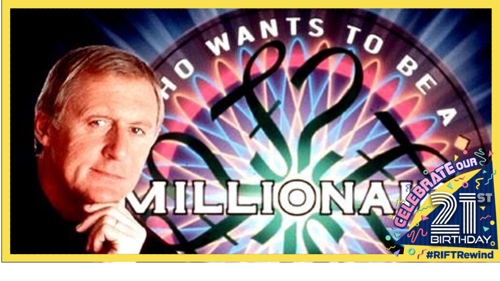 One thing we were apparently all glued to was the 3rd of January's episode of Who Wants to Be a Millionaire? That night, 17 million of us watched Chris Tarrant torment a string of contestants hoping to line their pockets for life. Such a simple concept for a show, but with all the drama, exhilaration and agony of a big-time sporting event or Hollywood epic. Almost 1 in 3 of the UK's population sat fascinated in front of the gogglebox that evening, hoping for a chance to shout abuse at some poor innocent who just burned his last lifeline on an incredibly easy question about soup or whatever.
New faces...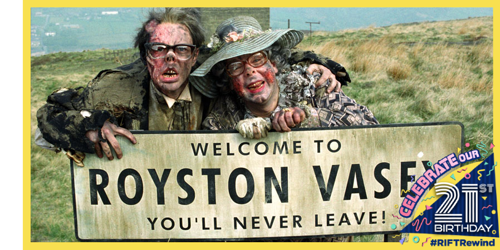 1999 was a pretty decent year for new TV shows, throwing out a few legitimate classics. Comedy loomed large, with the likes of Bremner, Bird and Fortune offering up the satire while Gimme Gimme Gimme went straight for the belly laughs. Bang, Bang, It's Reeves and Mortimer proved that surreal slapstick never goes out of style, and Smack the Pony shone a spotlight on the comic talents of rising stars like Doon Mackichan, Fiona Allen and Sally Phillips. Meanwhile, over in the sleepy little town of Royston Vasey, The League of Gentlemen showed that comedy and horror could be closer neighbours than we'd realised.
...and Old.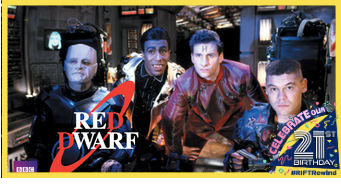 All good things come to an end, and 1999 had its fair share of TV casualties. Goodnight Sweetheart took its last walk down the mysterious, time-twisting Duckett's Passage. Rab C. Nesbitt burbled incoherently off into the Glaswegian sunset and the kids' classic Fun House finally closed its colourful doors after a decade-long run. We even thought we'd seen the last flight of the much-loved Red Dwarf, which drifted off the scanner screens in 1999, only to reappear a full 10 years later.
The technology of the time.
TV tech moves pretty fast. Every year, our screens are getting bigger, brighter and – for no reason anyone can explain to us – strangely bendier. The fat, square cathode ray models of the 80s and 90s were already becoming a blurry, flickering memory as the 2000s rose up on the horizon. We'd discovered slimline, sexy widescreen TVs with LCD technology, and we were willing to pay for them. Back in 1999, a 32" LCD widescreen set from a decent manufacturer could easily run you as much as £700. Remember, we hadn't even reached the era of 1080p HD in those days. That's 6 or 7 times what you'd probably pay for that same set new today – assuming you could even find one that small or simple. In 2020, that same £700 could nab you a 43" 4K Ultra HD monstrosity with a built-in Freeview tuner and dozens of apps, which hooks up to your wifi, listens in on your private conversations and knows what you'll want to watch even before you do! Just goes to show: a lot can change in a couple of decades...
Whatever you're watching in 2020, remember to keep one eye on the clock. The new tax year ticks over on the 6th of April, so it's the perfect time to get your tax refund sorted out with RIFT and get yourself that new TV to watch all your old favourites on. Get in touch to start your refund moving, and keep checking back for more RIFT Rewinds as 2020 rolls on.
RIFT are the UK's leading tax rebate and tax return experts.  If you think you might be due tax back, use our free tax rebate calculator to get an instant estimate of how much cash you could be owed back from HMRC.
---