The New Tax Year's Coming: Get Yourself RIFT-Ready​
04th March 2019
The 2019/20 tax year officially kicks off on the 6th of April. That means it's time to get your next tax refund sorted out with RIFT. If you're already got a MyRIFT account, just log in and start updating your information. If you don't have one (or can't remember your login details) ring or email RIFT and we'll get your next refund rolling fast.
If you want to chat about your claim or check if you can get one again this year, call soon on 01233 628648 to catch us before the refund rush starts. We can quickly help you sort out things like:
Where to find the documents you need.
What to do if your employment status has changed.
What happens when you start or stop getting benefits.
What changes when you finish paying off your student loan.
What to do if you've spent some time out of work in the last tax year.
The sooner you send up a flare to RIFT, the faster we'll be able to answer your questions, solve your problems and – most importantly – put that refund cash back in your pocket.
If this isn't your first RIFT rodeo, then we already have a lot of the information we need for your claim. Plus, you already know which documents to keep hold of. That's why people often get higher refunds from their second year of claiming. Remember, being short of time doesn't have to leave you short of cash. You can get the information to us however is most convenient for you:
By updating your MyRIFT account directly.
By calling us on 01233 628648.
By filling in the paper claim pack that we'll send you in the post.
Those claim packs will be going out soon – but you don't need to wait for yours before getting in touch or updating your MyRIFT details.
91% of RIFT's customers say "RIFT do all the hard work."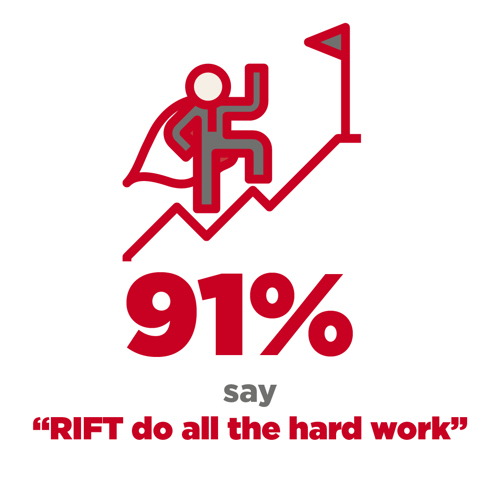 Tax rebates are a complicated business. They take time and expertise to do well. RIFT's specialist teams take all the heavy lifting out of claiming back cash from HMRC. You'll never even have to deal with the taxman yourself. Which is why…
97% say RIFT make it easy.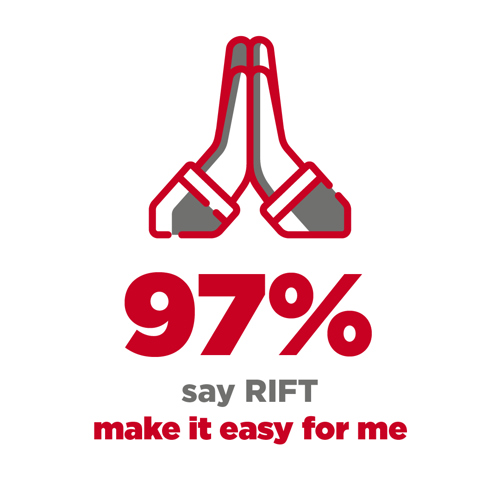 With MyRIFT, it's simple and fast to get your refund information to us. You can also track your claim's progress – and even upload documents directly from your phone. With no hourly rates or hidden fees, we're here whenever you need us and however you want to get hold of us.
95% say RIFT means reassurance that everything's done right.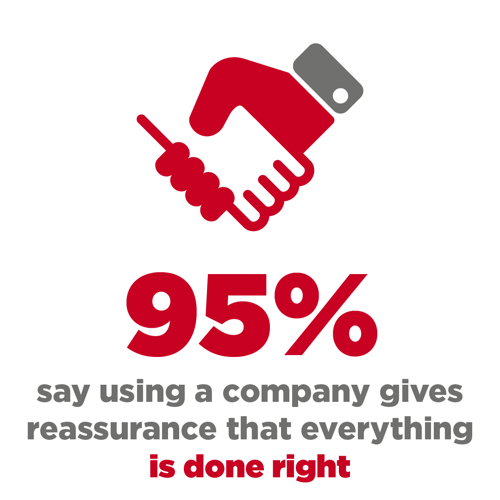 There's a lot more at stake than losing out on what HMRC owes you - and claiming too much can be even worse than too little. This is where using a professional pays off. You're not only boosting what you stand to gain, but you can be sure you're staying in HMRC's good books along the way.
82% say making a claim yourself is too complicated and high-risk.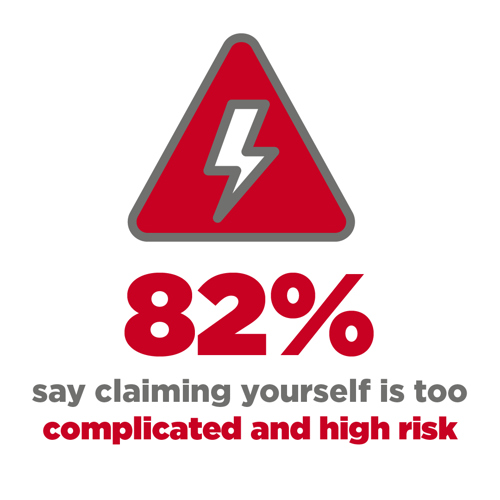 We deal with plenty of horror stories each year at RIFT, and we specialise in steering them to a happy ending. Here are just a few recent examples:
Turning a demand for £2000 in fines into a £1,499 refund just in time for Christmas.
Fixing an HMRC error that saw them demanding £1,500 in tax that had already been paid.
Fixing serious mistakes in a claim submitted by a "well-meaning friend" that would have resulted in an HMRC investigation and fines of 30% of the tax due.
89% of people say RIFT got them a bigger refund.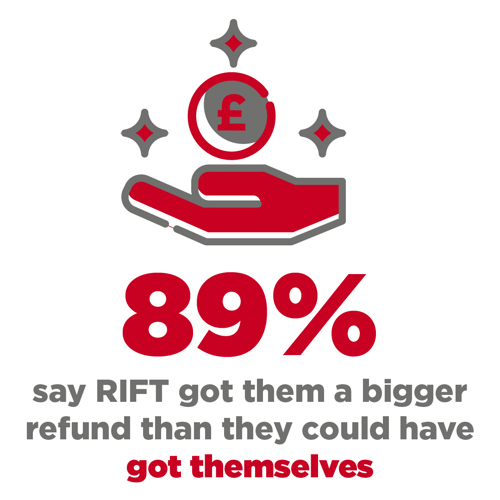 To make the very most of your yearly refund claim, you really need to understand the tax regulations. Making a claim without expertise is like picking your own pocket. The regulations change over the years, as does your situation. If you aren't sure exactly what you're entitled to, there's no way to claim it all back.
94% of RIFT customers say they want to claim again with RIFT this year.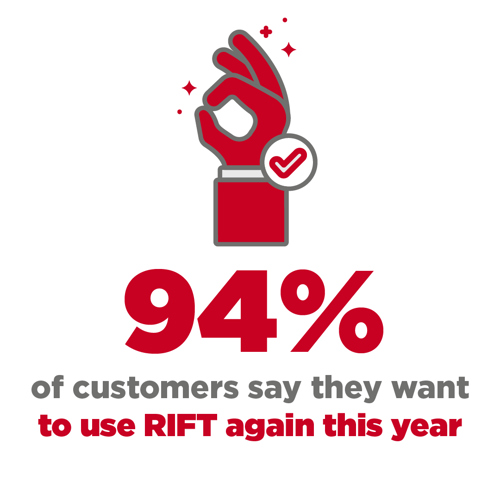 This is one we're really proud of. RIFT customers keep coming back year after year because they know we understand them. There's no one-size-fits-all nonsense at RIFT. We build our services around your needs - and as those needs change over the years, so do we.
Refund amounts are going up.
The average tax refund went up by a full 9% across the board in the last year. That means it's more important than ever to get back what you're owed. Here are some of our favourite things RIFT customers are splashing their refund cash on this year:
An engagement ring for a Valentine's Day proposal (she said yes!).
A family holiday to Disney's Summer of Superheroes (their little faces when they met Spider-man!).
Finally having enough for a first house deposit (our own place at last!).
A weekend away with the mates to prove once and for all whether Dave's best on the dance floor.
Doing up the nursery ready for a new arrival.
A season ticket instead of watching the football on the box.
A well deserved treat for Mum and Dad to say thanks for everything.
Redoing the kids' bedrooms now they're getting older.
Now's the perfect moment to make sure you don't lose out on your refund cash. Phone, email or jump onto your MyRIFT account to start the wheels moving. When it comes to tackling the taxman - and protecting both you and your money - you're always better off with RIFT.
RIFT are the UK's leading tax refund and tax return experts who've been in the business since 1999. 
---