The Dangers of DIY​
28th January 2020
When it comes to home improvements, the UK's a nation of have-a-go heroes. The trouble is, we're not always great at finishing what we've started. Worse yet, we've got a strong tendency to bite off more than we can chew. A typical British household has as many as 16 little DIY projects half-finished around the house at any time. Our instincts are basically good, of course. After all, a few little tweaks here and there can make a big difference to your living space, and even add value to your property. Time restrictions and a lack of expertise tend to trip us up, though – both figuratively and literally.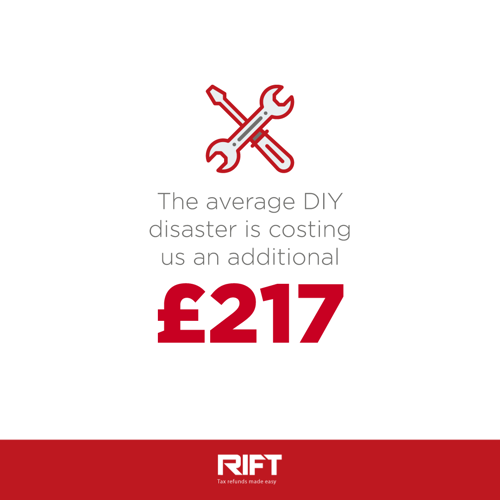 Only about 50% of us have actually seen a DIY project through to completion in the last year or so. Of those who have, a pretty impressive percentage are already wishing they'd got the professionals in. Across the UK, spilled paint is ruining carpets and furniture, wall plaster's getting mangled and chairs turned to splinters. We're breaking windows and fences at an alarming rate, bursting water pipes and driving nails through electrical wiring. It's not just our property we're damaging, either. Botched DIY is driving wedges between neighbours all over the country, and landing the unluckiest among us in hospital.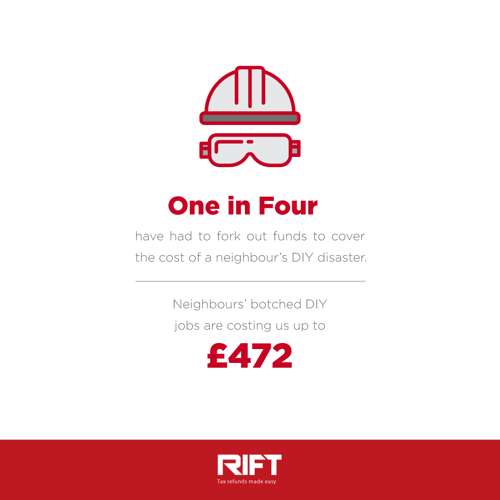 25% of UK homeowners have had to pay the bill when a neighbour messed up a DIY project, at a cost of up to £472 a go. An average DIY foul-up on our own property will tend to run us well over £200 to put right, along with tens of hours of work time. A typical British household splashes out £1,500 or more a year on DIY, one way or another. That's over £30 billion between us – and it's not even the biggest or most important number we're juggling here.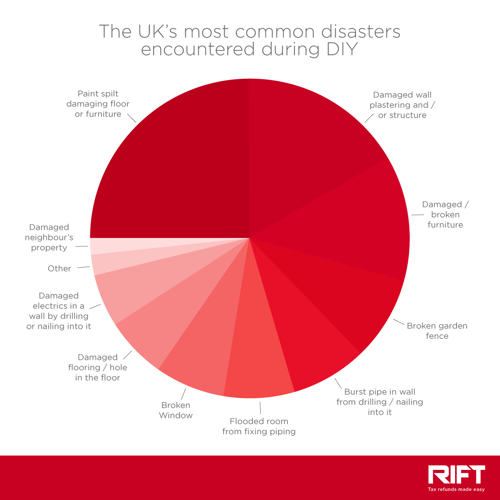 In 2017-18 alone, almost 63,000 people were admitted to hospital as a direct result of a DIY botch-job. Up and down the UK, DIY enthusiasts are hurling themselves off ladders, falling through floors and winding up on the business end of their own hand tools. Without the proper experience and expertise, or even the right protective clothing and gear, you're asking – no, begging – for trouble.
So, yes - this is where we start talking about tax rebates.
When you take on the taxman at his own game, you need to know exactly what you're doing. Obviously, you probably won't land yourself in a hospital bed from filing a bad tax refund claim, unless you're doing your paperwork really wrong. Even so, the chances are you won't be getting back everything you're owed either. Basically, your tax refund claim will be put up wonky, and it won't take the weight you were hoping.
When you call in the RIFT experts on your refund claim, you know you'll be getting the very best craftsmanship on offer. We've got the specialist knowledge to claw back every penny you're owed for your work travel and other expenses, and we know our way past every pitfall and obstacle a claim can throw at you.
On top of that, RIFT gives you state-of-the-art protection, covering both you and your cash. It's a messy experience getting lumbered with an HMRC enquiry because you filed a careless or inexpert claim – or even just because the taxman picked you out at random. Not just that, there are deadlines to watch out for and tax codes to check as well. A small mistake along the way can easily cost you. With RIFT, though, your refund paperwork will always be spotless because we never claim a penny you aren't legally owed. What's more, your whole refund's covered by our unique RIFT Guarantee. As long as you've given us accurate information, you're completely protected from HMRC enquiries. If the taxman ever dug his heels in and demanded some of your cash back, we'd simply pay him ourselves. Your full refund stays in your (very full) pocket.
Don't become another dodgy DIY statistic with your refund crashing down around your ears. Talk to RIFT about putting your claim together and let the experts get your money back. You could even use your pay-out to get that leaky shower fixed or roof repaired. Either way, you're always better off with RIFT.
RIFT have been in the business of claiming tax rebates and claiming tax returns since 1999. We know HMRC legislation like the back of our hand which means you'll always be in safe hands with us.
---