Something Big Is Coming...​
19th September 2019
We might be pushing on into the last few months of 2019, but across the board it certainly feels like the best might be still to come. No spoilers just yet, but big things are in the RIFT Refer a Friend pipeline right now, so consider this your official teaser trailer for something major in the coming months. Meanwhile, as a warm-up, let's take a quick glance at what the world's looking forward to for the remainder of 2019.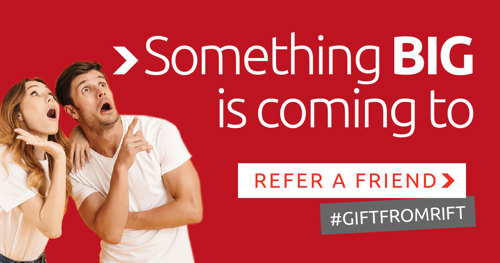 Most Anticipated Game: Death Stranding
Some super-stiff competition in this category right now, what with Borderlands 3 and Doom Eternal so close.  You've got to go a long way to top a Kojima release for sheer anticipation factor, though, and Death Stranding's had the entire gaming world scratching its head and dropping its jaw since it was first announced. The game's set for release on the 8th of November and, even this close to launch, we'd still be pretty hard-pressed to tell you what it's all about. Knowing Kojima, though, it'll be a dizzying, surreal story with some breathtaking visuals and… "unconventional" mechanics. With the likes of Norman Reedus, Mads Mikkelsen and Guillermo Del Toro on board, it's packing some serious star power, too. Definitely the one to watch for 2019.
Most Anticipated Film: Star Wars Episode 9 – The Rise of Skywalker
In a year where Avengers: Endgame, the Game of Thrones Finale and season 3 of Stranger Things are already in the rear-view mirror, you'd think it'd be next to impossible to ramp up the excitement for on-screen storytelling anymore. Trust Disney to do it all over again in time for Christmas, though, with the wrap-up of the entire 40+ year Skywalker saga. In typical J.J. Abrams style, they've given us just enough information to get internet speculation as to what it all means off the hook - and us firmly on it. Is Rey falling to the Dark Side at last? Are the Knights of Ren finally getting some real screen time? While we're at it, how in the galaxy is Emperor Palpatine back?
Most Anticipated TV Show: The Witcher
Tough call, this one. We very nearly gave it to The Mandalorian, which is out on the 12th of November. With no official launch set for Disney+ in the UK, though, we've got to give this one to Netflix with their inspired casting of Henry Cavill as the cat-eyed, silver sword wielding Geralt of Rivia. The Witcher has walked a long, strange path from Andrzej Sapkowski's acclaimed Polish fantasy novel series through its various video game incarnations from CD Projekt Red. The Netflix show looks like it's drawing most strongly from the literature, but it's hard to imagine there won't be more than a few nods to the games tossed in. Either way, as long as there's a horse - and that horse is named Roach - we're cool with it.
Something BIG is coming from RIFT...
So that's a few of the entertainment world's top 2019 reveals taken care of. Believe us when we say that what RIFT has in store will blow all of these away. We've got surprise plot twists coming up that'll put The Sixth Sense and Planet of the Apes to shame.  Check our Facebook and Instagram for more teasers as the month rolls on – and keep on referring your friends, co-workers and families to RIFT for their yearly tax refunds. It's simple to do, and there's no reason not to spread the tax rebate love this festive season. They get back the tax they're owed just when they need it most, while you get cash rewards and the chance to win some amazing prizes, like…. but we've already said too much. Take a look at our Refer a Friend page for more details, and keep an eye out for the next big reveal from RIFT…
RIFT have been in the business since 1999, making us the UK's leading tax specialists.  Use our tax rebate calculator to get a free and instant estimate of how much your tax refund could be worth.
---