Score £1,000 for Christmas with RIFT Refer a Friend​
04th October 2018
With the holiday season just around the corner now, it's time to announce our next Refer a Friend Star Prize. This time, it's literally a grand one! That's right – recommend RIFT to your friends, colleagues and family for your chance to win £1,000 just in time for Christmas!
To be in with a shot, all you have to do is get your referrals in before the 9th of December. Any of those that develop into tax refund claims will earn you a chance to win the £1,000 prize. We'll contact the winner on the 10th of December to make sure they get their cash in time for Christmas.
Remember – the star prize is on top of all the usual Refer a Friend rewards. That means you still earn:
£50 for everyone you refer who makes a claim with us.
£150 additional bonus for every 5 people you refer.
Entry into our Bronze, Silver or Gold prize draw tier, depending on how many referrals you've made. Prizes for these range from £50-£500.

Visit our Refer a Friend page for full details.
Of course, even if you've only referred one person who claims with us, you'll still get your shot at the £1,000 star prize.
Refer a Friend is a great way to make some extra cash for yourself, while helping others get back what they're owed by the taxman. This year alone:
Our customers have earned over £159,000 in referral rewards.
3,082 people have found out that they're due an unexpected tax refund, thanks to their friends looking out for them.
Our customers have helped us put about £6m back in hard-working people's wallets.
Our top referrer alone made himself a tidy £3,250 in rewards for helping out his friends, who are now around £80k better off! That could be some group holiday!
We've also given away over £10,000 in prizes – and we're just getting started!
All told, referrals from happy RIFT customers have led to more than £6 million in tax refunds being claimed in 2018. All that money would have been left stuffing HMRC stocking this Christmas otherwise. There's never been a better time to refer your friends and workmates to RIFT. Whether you're planning a winter holiday or checking out fitness equipment to fulfil a hasty New Year's resolution, just think of what an extra grand could mean for your family this year.
Our last Star Prize Winner was James Molloy who won £1000!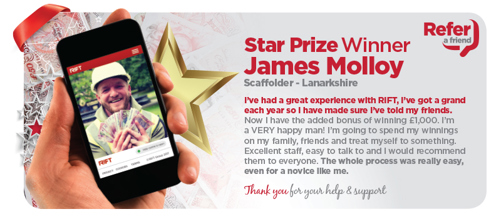 Visit our Refer a Friend page to get started and have yourself a grand Christmas on us this year.
If you think you're eligible for a tax rebate use our tax refund calculator to find out and get a instant estimate of how much your HMRC tax refund could be.
---