How Much Can Dry January Save You​
13th January 2020
It's been a few years since the Dry January campaign first started hitting the headlines, and by now the big health benefits are pretty well established. Giving up alcohol, even for a single month, can lead to an impressive range of knock-on effects. You might find you're sleeping better, for instance, or that you have more energy during the day. A lot of "dryathletes" report having better mental focus and a clearer understanding of what their usual drinking habits are doing to their bodies and minds. Cutting back on the booze can help you lose weight, improve your digestion and even lower your risk of serious diseases like cancer – and we haven't even talked about the money you'll be saving yet.
What can dry January save you?
Obviously, what you stand to save depends largely on what you're splashing out on alcohol in a standard month. A typical drinking couple ditching the booze for 5 solid weeks in January could stand to rake in over £200. That's all cash that was otherwise headed for the toilet that month, one way or another.Even single moderate drinkers are still probably looking at up to £65 saved over the month.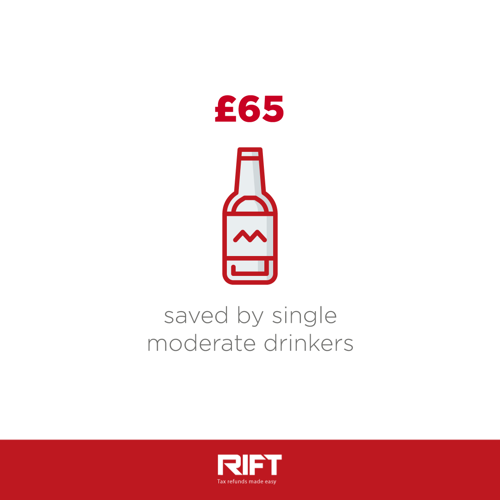 Dedicated pub-crawlers who enjoy a weekend blow-out, on the other hand, could score over £200 apiece!
With the 31st of January's deadline for paying up your Self Assessment bill looming, it's not a bad time to have a little extra cash padding your wallet.
How much do Brits spend on alcohol?
Dry January's about more than just saving a few pennies once a year, of course. In fact, if you take it seriously, it could help you "reset" your whole attitude toward alcohol by giving you a glimpse of the mental and financial shape you're in without it. A typical Brit spends around £50,000 on booze in a lifetime. Obviously, there's some wiggle-room in the numbers there, and people drinking in pubs are paying more per unit than those who stay home.
Even so, it's pretty clear that most people are pouring a lot of cash down their necks – enough that a month without could make a pretty big difference to many of them. In fact, stretching an average couple's dryathlon out for an extra month or two could buy them a decent little holiday abroad.
What can a lifetime of Dry Januaries save you?
So, if you've been knocking back the UK average of 67 units of alcohol per week over Christmas, now's the time to take a look at what it's been costing you to keep the festive season merry. Even if you're not too worried about your immediate health, it's worth giving a little thought to the long term. Taking a dry month once a year and saving the cash could mean a lot of extra financial fabric in your retirement parachute. Some pension savers, for instance, could find themselves up to £20,000 better off as a result of drying out their Januaries. That could mean an extra grand a year in retirement.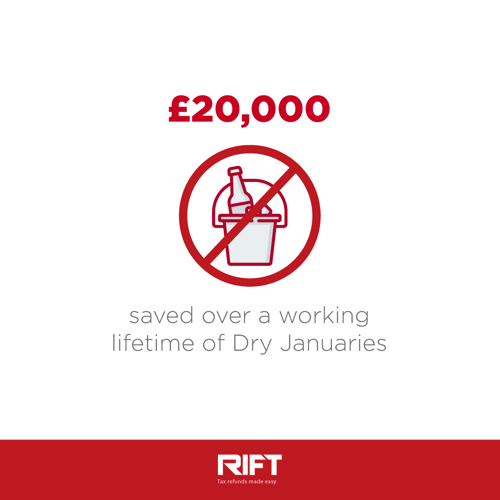 So, are you already one of 2020's new crop of dryathletes? Are you planning on joining the team this year? It's not that huge a commitment, and unlike most New Year's resolutions, it doesn't involve going outside, being nice to people or lifting anything heavy. If you're interested, you can find out all about the scheme at the Alcohol Change UK website. In the meantime, get in touch with RIFT to get your Self Assessment sorted or your tax refund rolling.
RIFT are the UK's leading tax rebate experts who also specialise in self assessment tax returns.  If you think you could be due tax back from HMRC, use our free tax rebate calculator to get an instant estimate of how much you could be owed.
---