RIFT Seasonal Star Prize Announced as iPhone X​
08th November 2017
It's time to mark your calendars for the first ever RIFT Refer a Friend Star Prize draw and give one lucky winner a great start to the New Year.
Here's the really exciting bit. Everyone in the draw gets a chance to win the mystery Star Prize. Today, we can finally announce what the prize is for this first draw. Drumroll please...

Introducing the all-new iPhone X, worth £999!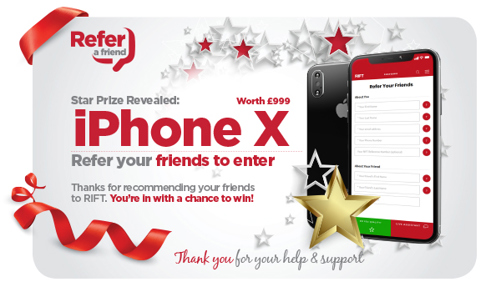 The lucky winner will be getting an iPhone X 64gb in shadow grey.

The iPhone X really is an amazing piece of kit. We know you love your tech, because so many of you tell us so. Loads of you are putting your refunds into the latest gadgets and devices; they're among the most popular things to spend the cash on.
With a stunning 5.8-inch screen and A11 Bionic chipset, the iPhone X really is the new flagship for Apple. It's got tons of power, Face ID and wireless charging – and a price tag to match making it a prize worth £999. The best part is, if you've used Refer a Friend since 1st October this year you're already in with a chance to win it. If not, there's still time!

So, if your number comes up after the draw closes on the 31st of December, then the next time you log into your MyRIFT account it could be on your brand new iPhone X. You can log your travel costs right there, with all the information for your next refund claim in the palm of your hand.
You'll be capturing priceless family moments in incredible clarity and sharing them with friends and family. Meanwhile, your mates will be enjoying the extra Christmas refund cash you scored them with your referrals.
Even if you don't win the Star Prize this time, RIFT Refer a Friend still has loads to offer. The more people you refer, the better your chances and the bigger the prizes - so start earning your rewards now!
How do I get the phone if I win?
We will contact the winner to confirm their address and then send the prize out by courier.
You will need to take the order details we provide you with to an Apple store, to be able to prove ownership, and then you can register the phone to your Apple ID.

The phone will not have a sim card when you receive it and will not be tied to a contract. You will need to take our a contract for connection/calls etc, or transfer your existing agreement to the new phone.
How does Refer a Friend work?
Refer a Friend is a fantastic way to spread the word about tax refunds – and make yourself some extra cash into the bargain. Here's how it works. Suppose you've got friends, workmates or family you think might be due a tax refund. For every person you refer to us who goes on to claim what they're owed through RIFT, you get a £50 reward. For every 5 people you refer, you make an extra £150 on top – just for being a good mate! It's a great way of doing what we do best – putting money back in your pockets. Now, we've made it even better with our brand new seasonal Star Prize Draw.

You can find the full details of the draw here but here are the basics. Every time you get one of our £50 referral rewards, you get an entry into the cash prize draw and even making just one new successful referral in the season gets you entered for the star prize.
Use our tax refund calculator to find out how much cash you could be owed from HMRC.  RIFT is the UK's leading tax rebate and tax return experts.
---