RIFT Reviews: The Grand Tour​
10th January 2019
With filming completed and a brand new series of The Grand Tour only days away, the RIFT crew's been thinking back over the show's history. While the famous Grand Tour tent's been stubbornly parked up in the Costwolds since series 2, it's travelled the world like a true celebrity over the years. Let's take a quick look at the mileage it's clocked up so far.
London - Lucerne Valley, California
Hybrid hypercars, Ford Mustangs blazing through the California desert and the first-ever appearance of the tent itself. Getting out there from London puts a flat minimum of 5,383 miles under your wheels.
Lucerne Valley – Johannesburg, South Africa
Here we're introduced to the fine art of "spinning" – which unsurprisingly turns out to be murder on your tyres. On top of that, the team takes on a military training exercise and puts an Aston Martin Vulcan through its paces at the Eboladrome. It's the longest hop of the series to get here from California, at around 10,297 miles.
Johannesburg – Whitby
Simon Pegg tumbles to his apparent death from Whitby Swing Bridge, while May and Clarkson take an unexpected plunge in the Venetian Lagoon. Apparently, that's what you get for ditching Hammond. The journey here from Johannesburg probably clocked up about 5,836 miles.
Whitby – Rotterdam, Netherlands
After stopping off in Whitby for another week, the Grand Tour tent ups sticks for Rotterdam. There's some creative use of animal carcasses going on, but as usual it's all about the cars. The Mazda MX-5, Zenos E10S and Alfa Romeo 4C Spider all feature. As for the tent, it's travelled just 275 miles since we last saw it.
Rotterdam – Saariselkä
The Christmas 2016 episode brings us to the gorgeous forests of Saariselkä. Purely automotive matters are set aside in favour of a debate about the relative merits and messiness of Flakes and Double Deckers. Saariselkä's a 1,369-mile trek from Rotterdam, so we'll stack that onto the running total.
Saariselkä – Ludwigsburg, Stuttgart
After two essentially tentless episodes while the team raced beach buggies along Namibia's Skeleton Coast, we're back on track in Ludwigsburg. German singer Nina is apparently hoisted away by 99 red balloons, and Clarkson's Frankensteinian experiment, "The Excellent" fetches £4,000 at auction against a production cost 10 grand higher. Getting the tent here from Lapland puts about 1,487 miles behind it.
Ludwigsburg – Nashville, Tennessee
While The Grand Tour team sets out to solve the problem of ailing coral reefs through the medium of dumped car bodies, the tent sets up by the Cumberland River, a mere 4,640 miles from its last location.
Nashville – Loch Ness
Sadly, the true mystery of Nessie wasn't definitively settled in this episode. However, we did at least get to chuckle at a few unfortunate German, Austrian and Bavarian place names and Tim Burton guest stars in an imploding submarine. Reaching Loch Ness from Nashville will probably run you about 3,895 miles.
Loch Ness – Dubai, United Arab Emirates
As the first series wraps up, the Grand Tour tent makes its way to Dubai. Meanwhile, F1 racing star Daniel Ricciardo gets sucked into a hovercraft fan, Hammond learns to drift against the pros and we're introduced to the mud-loving "winchers". Dubai's around 4,992 miles from Loch Ness.
All told, that stacks up to an impressive 38,174 miles travelled in 2016. Looking at it in tax refund terms, the first 10,000 miles of that would get you 45p per mile at the standard AMAP rates. That makes £4,500 right off the bat. For the remaining 28,174 miles, the rate drops to just 25p per mile, but that's still another £7,043.50 to claim. Overall, the Grand Tour tent made £11,543.50 worth of travel in series 1 – and that's just taking the shortest possible distances into account.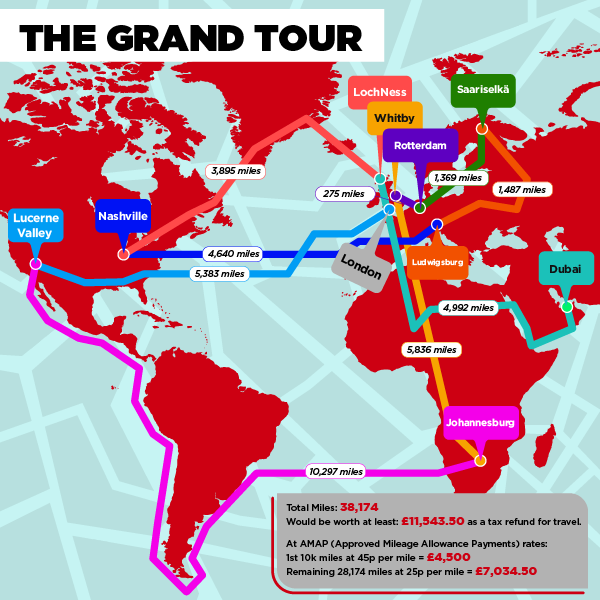 You don't need to be on a grand tour yourself to claim back cash from HMRC. When you travel to temporary workplaces, you're entitled by law to tax relief on what you're spending. Whatever your job is, from brickie to brigadier, get in touch with the UK's leading tax experts. When it comes to tax rebates, you're always better off with RIFT.
---