Reward yourself: put extra cash in your pocket with RIFT Referrals​
12th September 2016
Help your mates get a tax refund in time for Christmas  - and get an extra £50 in your own pocket! At RIFT, we love it when happy clients tell their friends about us. We love it so much that we reward you for doing it!
Better yet, we're running a special autumn bonus scheme until the 9th of October. Until then we'll:
Give you £50 for everyone who claims with us
If you refer 5 people who make claims through RIFT we'll put an extra £150 in your pocket as an extra special thank you.
That's £400 in your pocket as well as the warm glow of helping your mates out – and there's no limit.If you carry on recommending us, we carry on paying you. One of our top referrers, Simon Wakelin, has already topped £2,000 in referral payments from RIFT. There's no reason why you couldn't earn as much or more, just by spreading the word.
If you move fast, they'll have their refund in time for Christmas - and you'll get a nice extra stocking stuffer!
The idea is really simple. It starts with us doing a great job for you, clawing back your hard-earned cash from the taxman. Once you've seen what we can do, it's just human nature to make some noise about it. Since we've managed to sort out a tax refund for you, there's every chance your mates at work are owed one too. You're probably going to want to tell them about us anyway, so why not get paid to do it?
How it works:
Every time you tell someone about RIFT and they end up claiming a refund, we'll give you a cash reward. There's no upper limit on what you can earn this way. Some of our top referrers are making thousands of pounds with no sign of stopping!
Simply enter your friend's name and email address in our referral form
We'll send them a one off email to let them know you think RIFT tax refunds could help them
If they claim with us then we'll pay you your reward.
Not sure which friends could claim? Find out more about who can claim tax refunds. You can also tell them to have a look at our tax calculator and see how much they could be due back.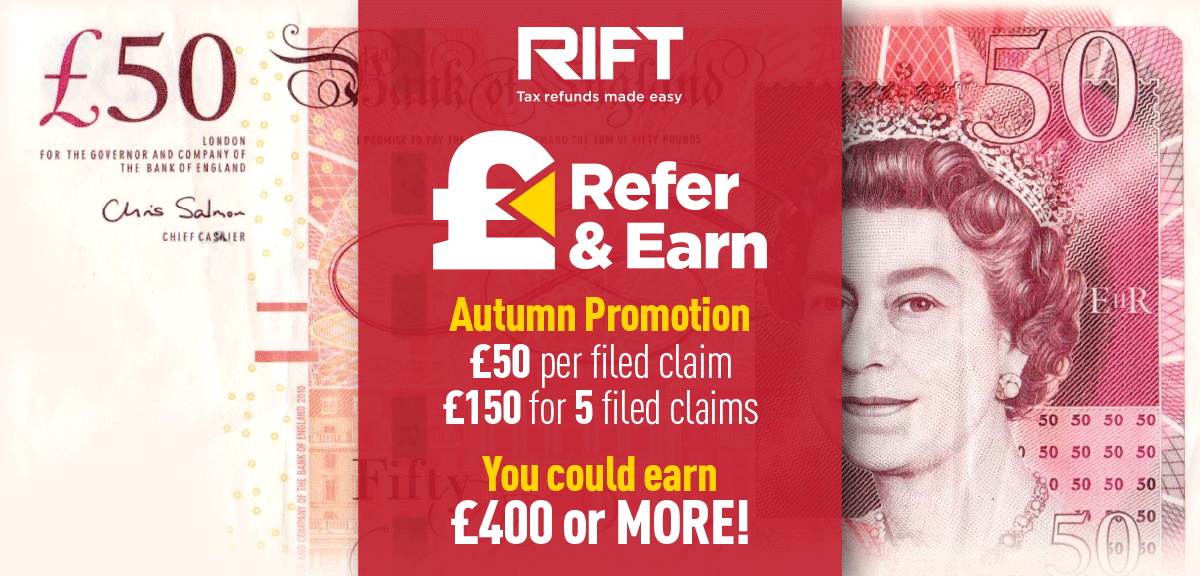 Referral schemes are good for everybody. We get to meet new clients and help them tackle HMRC, they get their tax refunds and you get richer! You're also helping out your friends, if cold, hard cash isn't enough of an incentive. There are still far too many people paying more than their fair share of tax. HMRC will never try to cheat you, but you have to know you're owed money to claim it back. You also have to be able to prove it, and that's where RIFT comes in. Tax rules are complicated, but personal recommendations from people you trust are a fantastic way to make sure no one's missing out.
Hundreds of people refer their friends, workmates and families to RIFT every month. Just to pick an example:
Daniel Dugdale is a construction worker who chased up a tax refund through RIFT. He ended up pocketing a £1,900 rebate from HMRC. He then told his dad about us, who reclaimed £1,500 himself. Daniel got a referral fee from us for the recommendation, and says he's going to keep on referring people. His dad's even getting in on the act too! Here's what Daniel has to say:
"Getting my tax refund couldn't have been easier, as one of the RIFT reps came on site and completed all the forms for me. We'll definitely be telling all our mates about RIFT and earning ourselves extra cash."
Believe it or not, it actually gets better. For one thing, you don't even need to have a tax refund claim yourself to start earning with RIFT. If it turns out the taxman doesn't owe you anything, you can still grab some quick cash and help your friends and family out by letting them know about us. If they have valid refund claims themselves, you'll get your referral rewards.
We want the RIFT referral scheme to benefit everyone, and help as many people as possible get the refunds they're owed. Most of our clients refer 4 or 5 people each per year, but some go as high as 10 or more.That's hundreds of pounds in referral bonuses for them, and tens of thousands in reclaimed taxes making their friends' lives better, too.
There are a lot of dodgy dealers in the tax world, and it's so hard to know the good guys from the bad. That's why we rely on personal recommendations to get the news out about RIFT. We never claim for anything you're not fully entitled to, and our unique RIFT Guarantee keeps your refund completely safe. That's why we're the only tax refunds company accredited by the ICS for outstanding customer service.
You wouldn't hesitate to lend a mate a brolly or give him a lift home in the rain. How's a £2,500 tax refund rank in the "favours" stakes? You can find out all there is to know about RIFT referrals and get started now.
---