RIFT Refer A Friend Winter Prize Draw Winners Announced!​
19th January 2018
The winners of our first ever RIFT Refer a Friend Prize draw have now been selected at random and sent their prizes! We received a great response to the 2 prize draws which ran from 1st October - 31st December, so let's see whose efforts for telling their friends about RIFT Tax Refunds paid off this time.
Star Prize Winner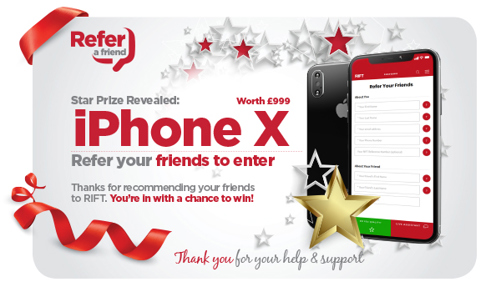 The lucky winner of the iPhone X star prize was Calvin Bates, who had referred two friends to RIFT for a tax rebate during the winter period, and have both gone on to make a claim with us.
That means he earned £100 in referral rewards and £999 worth of brand new phone for helping make sure his mates aren't out of pocket either.
Cash Prize Winners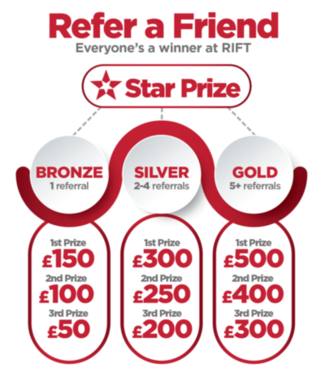 Gold Tier Winners
1st Prize of £500: Ellis Mallet
2nd Prize of £400: Robbie McGee
3rd Prize of £300: Sam Fantis
Silver Tier Winners
1st Prize of £300: Craig Taylor
2nd Prize of £250: Danielle Stevens
3rd Prize of £200: Adrian Tunstill
Bronze Tier Winners
1st Prize of £150: Stewart McKenzie
2nd Prize of £100: Ross Rogers
3rd Prize of £50: Lydia Cugudda
Remember, these draws are in addition to the cash bonuses you get for using the Refer A Friend scheme. That means:
You still get your £50 award for each person you refer to RIFT who then makes a refund claim with us.
On top of that, you also get your extra £150 reward for every 5 people you send our way that claim.
This cash prize draw brought in a grand total of 3,415 qualifying entries  (remember, you get one entry for each person you refer). 796 people were entered into the Star Prize draw, in total. Any way you look at it, these are much better odds than scoring a lottery win:
Chance of winning the UK Lottery Jackpot: 1:45,057,474
Chance of winning the Eurojackpot: 1:95,000,000
Chance of getting a Royal Flush in poker 1: 649,740
Chance of being struck by lightning: 1:2,320,000
Chance of getting attacked by a shark 1: 11,500,000
The Spring Star Prize
Now it's time to announce the Star Prize for our next Seasonal Prize Draw. From years of talking to our customers, we know that many of you love splashing your tax refunds on family trips abroad. That's why we're handing out £1,000 of holiday vouchers to our next lucky winner!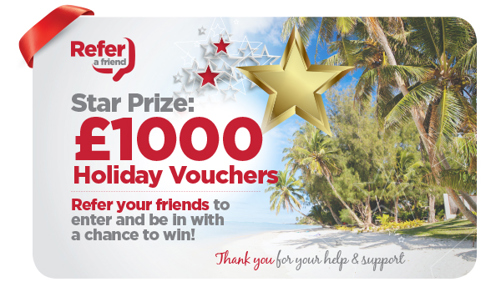 To be in with a chance, you need to refer a friend, colleague or family member before the 31st of March 2018. That's when we'll be closing the draw and picking the winners. The Gold, Silver and Bronze tier prizes all still apply, so even if you don't land the vouchers you're still in with a chance for those extra cash prizes.
So congratulations to our first batch of winners, the best of luck to you all and keep on earning those cash awards by Referring Your Friends today!
RIFT have been in the business of claiming tax rebates and filing tax returns since 1999. If you think you could be owed cash back from HMRC, get in touch with us today to see how we can help.
---