Refer A Friend Prize Draw Winners Announced!​
12th November 2018
At RIFT, we understand the true value of friendship. We love it when you spread the news about what we do, and we always put our money where our word of mouth is.
With our Refer a Friend scheme, you earn a cash reward for every workmate or family member you send our way with a valid tax rebate claim. That's £50 per referral in your pocket – plus an additional bonus of £150 for every 5 people you refer!
On top of all that, you also get entered into our special prize draws. Depending on how many referrals you make, you can get cash prizes of between £50 and £500. There's even an extra Star Prize on offer whichever prize tier you qualify for, which is worth even more!
The winners of our most recent draws have now been announced:
Star Prize – £1000 Tech bundle: Sam Dance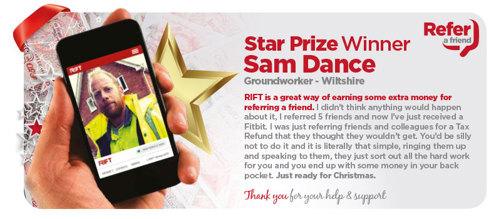 Gold Tier Winners
£500: Richard Ellis Green
£400: Navin Limbu
£300: Frederick Quinn
Silver Tier Winners
£300: Craig Taylor
£200: Jordan Bohannon
Bronze Tier Winners
£150: John Everatt
£50: Gabriel Coleman
You can read what all our winners have to say and get referring right now over on our prize winners' page.
We've still got one £100 Bronze and one £250 Silver prized unclaimed, so check your emails - it could be you!
Remember, these draws are in addition to the cash bonuses you get for using the Refer A Friend scheme. You can see what our winners have to say for themselves here, and learn all about Refer A Friend here.
Our next prize draw features a Star Prize of £1,000 in Christmas spending cash. Get your referrals in by the 9th of December for your chance to win - and the best of luck to you all!
We've been in the business of claiming tax rebates and filing tax returns since 1999.
---