Making the Most of Black Friday and Cyber Monday​
07th November 2019
As the retail world winds up for 2019's one-two punch combination of Black Friday and Cyber Monday, it's time to take a quick look at how to roll with this year's spending frenzy. Here are a few RIFT survival tips for making it to Christmas without falling victim to Weeping Wallet syndrome.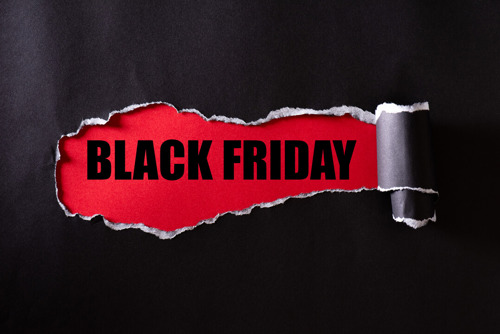 How much do we spend on Black Friday?
The first thing to know is that Black Friday 2019 is the 29th of November. That's when the Purchase Panic really starts to bite, with the average Brit already expecting to lay out around £315 online and in the stores. Retailers are looking at a sales bump in the region of a whopping 1,700% over a normal day, with online shopping hitting its peak between 5pm and 8pm when we're all back from work.
How much can you save on Black Friday?
With average discounts expected to reach up to 63% off, it's not hard to see why people get excited. Internet shopping's getting easier all the time, so over half of us will probably be spending Black Friday on out phones, snapping up those unmissable deals. Clothes, shoes and electronics are going to be selling fast, but pretty much every retail area will probably be feeling the rush.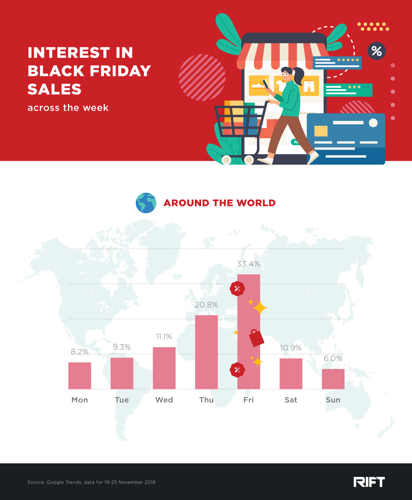 Cyber Monday falls on the 2nd of December this year, but with Black Friday tending to stretch its legs under the table a bit it's all starting to blur into one big thing. As we mentioned, you're probably going to be doing a lot of your shopping digitally anyway, so it'll be worth jumping online on the Monday to catch a couple of flash sales.
How to bag the best bargains on Black Friday & Cyber Monday.
One thing you're going to want to do is bite down on your worst shopping impulses. There are going to be a bunch of too-good-to-be-true deals flying around, but you can't always afford to get carried away. Set a budget, and if possible make up a wishlist. Snipe the items off your list at the best prices you can find, and don't blow your budget on unexpected extra purchases.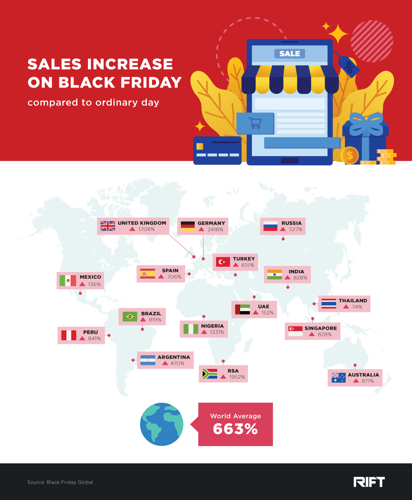 Don't let the price or the advertised discount be your main reason for buying, either. £100 blown on a sub-par piece of electronics is still £100 wasted, even if the full price would've been double that. Read a few reviews and buying guides before clicking the buy button.
How to avoid Black Friday Scams
Another handy bit of research you can do is to double-check what those full prices really were. A few dodgy retailers will pump up the price of the items they'll be discounting in the run-up to Black Friday and Cyber Monday. Sure, you're making a 60% saving over what you might have paid the day before, but be aware the discount might not be as big as it seems.
The scams you'll face can actually get a lot worse than inflated discount claims, of course. You might find yourself flooded with emails offering unbelievable deals on top-brand products. Think twice before you start throwing your credit card details out, and don't click links in emails or on social media if you're not 100% sure where they'll take you.
Gaming rigs are always big sellers over the panic-buying season. Both Sony and Microsoft are teasing major console launches in late 2020, so it's a good time to hunt down the best bargain bundles on current-generation hardware. There's still a lot of life left in the humble PS4 and Xbox One, and bundles packed with AAA games and extra controllers will represent your best value.
Whether you'll be spending your Black Friday/Cyber Monday time out on the high streets or rampaging through the online stores, keep yourself safe and stick to your budget. Enjoy the madness, grab some great deals, and remember to check back here for more survival guides from RIFT.
Cover the cost of Black Friday spending with a RIFT Tax Refund
The average first tax refund claim (where we can help you claim up to 4-years) is worth over £2.5k on average, and subsequent one year claims are around the £800 mark so that's more than enough to cover your Black Friday purchases with change.
Check if you're due a tax rebate now using our free tax rebate calculator. You'll get an instant estimate of how much you could be owed. Or give us a call so you know that money's safely on it's way to cover whatever you spend.
---