Celebrate our Silver Covenant with reduced fees for Returning MOD Customers​
14th December 2018
The RIFT family has always honoured our close ties to the Armed Forces community. From our ongoing partnership with, and regular donations to, ABF: The Soldiers' Charity to the over £56 million we've claimed back from HMRC for our MOD clients, we've worked hard to uphold the promise of the Armed Forces Covenant.
This year, we reached the AFC's prestigious Silver status – and to celebrate we're opening up a new discounted rate for all our Armed Forces customers who make another tax refund claim with us*.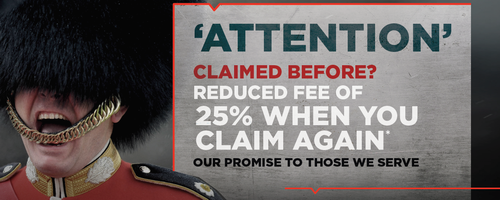 The Armed Forces Covenant is dedicated to a simple goal: to recognise the sacrifices of those who serve. At RIFT, we've taken that commitment to the very heart of the work we do, so that we can we can honour the dedication of those we serve.
Earning Silver status meant looking hard at the company, inside and out, to see how we could do more to ensure that former and serving Armed Forces personnel are never put at a disadvantage by their service. We've created new roles for veterans within RIFT, and developed new ways of reaching out to the military community. We've also made work more flexible for Service members and spouses, to adapt around their commitments.
Now, we're putting our money where our mouth is once again with an exclusive discounted fee of 25% for MOD customers who have previously completed a Tax Refund claim with RIFT and return to us again for their 18/19 refund.
Like all strong families, RIFT thrives on communication. By actively talking with the Armed Forces community, we can continually build our relationship and services to better suit your needs. Our new Military Engagement events are gaining momentum and putting tax refunds within the reach of more Armed Forces personnel than ever before.
At the same time, we're getting amazing feedback from you about how we're helping and how we can keep improving.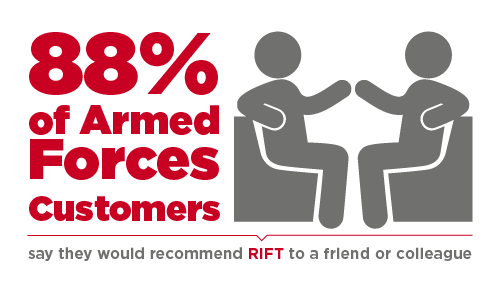 88% of our Armed forces customers are recommending us to their friends, families and colleagues.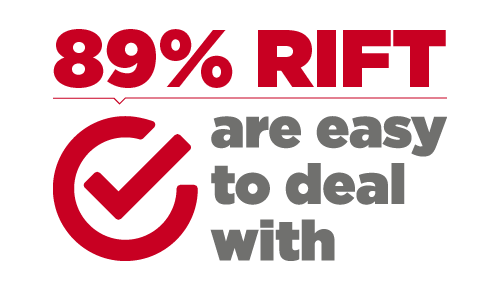 89% are telling us how easy we are to work with.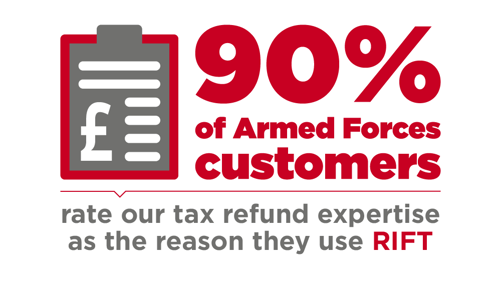 90% say our tax refund expertise is why they choose to use and stay with RIFT.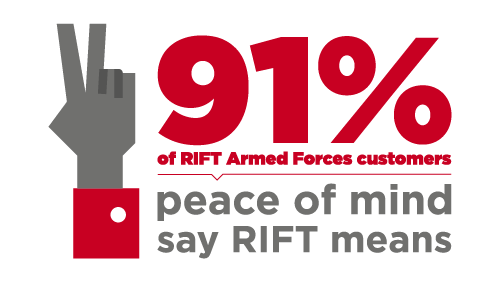 Just as important as any of those statistics, though, is the 91% of Armed Forces personnel who say we give them peace of mind.
It's always amazing to hear from customers about the differences we've been able to make to their lives and finances. When that feedback comes from the Armed Forces community - working in the most challenging and demanding field there is - that's when we know we're really on the right track.
If you're new to tax refunds, welcome to the family. If you're returning after claiming with us before, it's great to have you back. Either way, it's an honour to serve you in your claim, and to prove a claim of our own: from reclaiming cash from HMRC to tackling all your tax problems, you're always better off with RIFT.
If you've not claimed before, find out if you're due a refund.
If you've made a claim in the past, get in touch if you want to check if you're due a refund again this year by calling 01233 628648 now.
---