British parents among the 'best off' in the world​
05th September 2018
British parents rank as being among the world's 'best off' when average earnings and cost of living are weighed together, but they're still feeling the squeeze when it comes to getting by. Single parents as well as two-earner and one-earner couples in the UK all rank in the world's top 10 as having some of the highest household income after tax, based on cost of living.
But according to a recent report by Child Poverty Action Group (CPAG), the basic cost of raising a child from birth to age 18 in the UK is £75,436 for a two-parent family and £102,627 for single parents1. The report also states: "The cost of raising children is increasing but, for the first time in decades, support for families is not keeping pace."This is what lead us to test where in the world it is the easiest and hardest to raise a family and how this differs from the UK. We analysed data from the Organisation for Economic Co-operation and Development (OECD)2, calculating how much each countries' family finances equates to in the UK based on the cost of living3. So, who outranks UK families?
The stats revealed that British single parents have some of the highest income in the world, even when you account for the UK's high cost of living. Only parents in the Netherlands, Luxembourg, Germany, Switzerland, and Austria are consistently better off according to our data.
The 'hardest' and 'easiest' countries to pay for being a single parent
Raising a family as a single parent is especially difficult in Turkey, where single-parent households earn the equivalent of around £6,784 a year when cost of living is considered. It's virtually nothing compared to the Netherlands, where single-parent earners receive an annual income of £30,174. The UK also fares well with single-parent families taking home a healthy pay packet of £25,509 and ranking eighth on the global scale.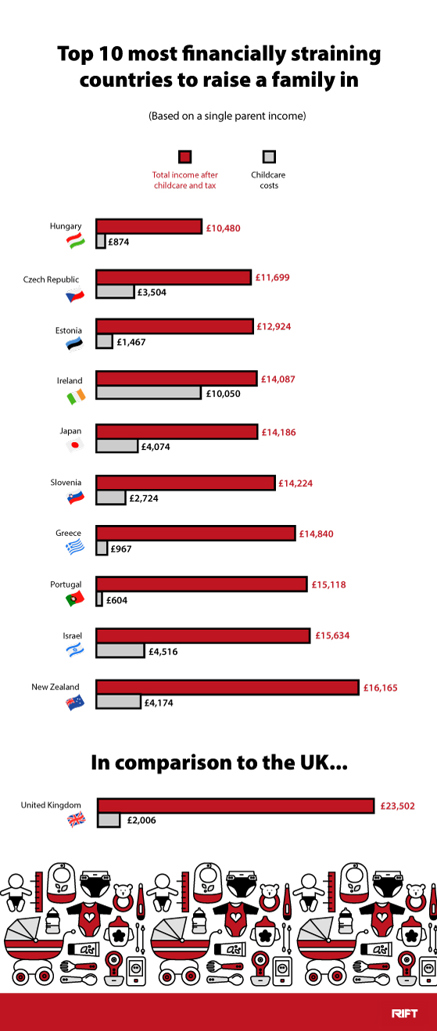 The place where two-earner households most likely feel hard up is Turkey, at just £16,220 a year. Mexico follows closely behind, with two working parents receiving a joint annual income of £18,741, according to our research.
This is compared to households in the Netherlands that are fortunate enough to bring home nearly double that amount (£56,795). The UK ranked fourth, with our data revealing that a household with two married working parents lives off £51,742 a year.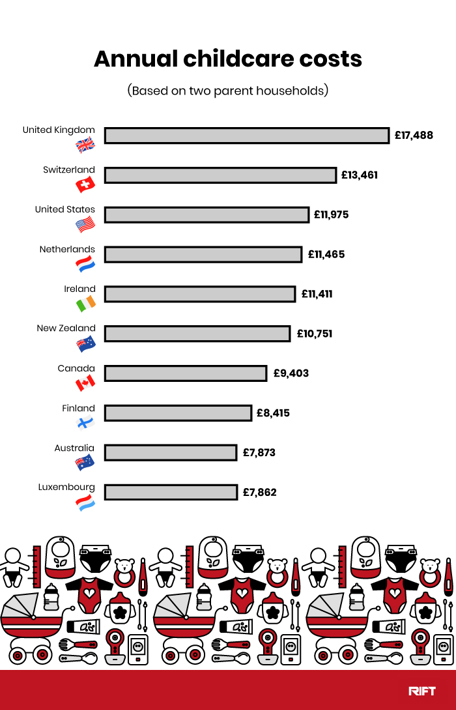 The best and worst countries to be a stay at home parent
When it comes to being a stay-at-home parent, Luxembourg came out on top, where average income for a one-earner married couple based on cost of living equated to £39,441 per year. Germany followed closely behind, with the stats revealing that two-parent families with one breadwinner pocket £38,056 per year.
The UK made the top 10, with UK married couples earning an average of £31,284 per year after tax. Turkey again came bottom of the list, with our researching highlighting that households with one working family member receive a salary of £9,696 when cost of living is considered.
While the cost of raising family can be hard in the UK, it's clear that compared to the rest of the world, we appear much better off than many other countries.
Sources:
Methodology:
Average household data per family type was exported from https://stats.oecd.org and converted to GBP via XE.com on the 23rd July 2018.
Using the Cost of Living plus rent index from Numbeo (https://www.numbeo.com/cost-of-living/rankings_by_country.jsp) we created an index where the UK was 100 and compared each country against this.
RIFT Tax Refunds is one of the UK's leading tax rebate specialists, helping UK employees successfully claim back the tax they're owed from HMRC.
---