Be a Tennis Ace with our new Star Prize​
01st July 2019
The wait is over and it's finally time to announce our next quarterly RIFT Refer a Friend Star Prize is a Nintendo Switch console and a 55" TV to play it on!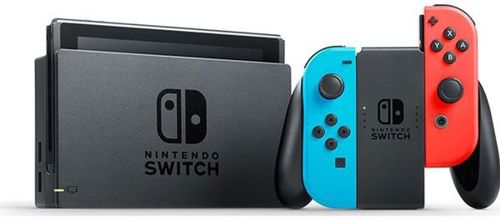 With 720p HD video, built-in wifi and a 32GB hard drive, the Nintendo Switch is an impressive piece of gaming kit. You can play either on its own built-in screen, or dock it into its cradle to pump the output straight into your new TV. It's all seamless and simple, and the high-definition tactile feedback on the twin controllers makes them a joy to use.
As Wimbledon's in full swing, so we've decided to include a copy of Mario Tennis Aces to go with your new Switch Neon Red & Blue system. Since we're all about friends and family at RIFT, throwing in such a classic multiplayer title just seemed right.
You can play Mario Tennis Aces together in either local or online modes, with up to 4 players joining in at once. It's a pretty far throw from the 12th century origins of the sport, of course. In fact, it was another 400 years before players even opted to start using rackets instead of whacking the ball with their hands! Even so, what Mario Tennis Aces lacks in strict realism it more than makes up for in sheer fun.
If you're not already a video game convert, the Switch is a great way to dip your toe into the gaming waters. Video games aren't just mindless entertainment. In fact, there are studies showing that they're great for developing hand-eye co-ordination, overcoming dyslexia and even improving your vision. Multiplayer games are known to develop leadership and communication skills, and help build and maintain social connections. Regular gamers often make faster decisions, are better problem solvers and suffer less stress and depression.
Remember, to be in with a shot of winning, just keep on telling your friends, workmates and family about RIFT. Every time one of them claims a tax refund with us, we'll send you a £50 reward. Refer 5 people for an extra £150 bonus as well. On top of all that, you'll automatically be entered into our Star Prize draws, with a chance of scoring anything from £150-£500 in cash as well!
Best of luck with your Refer a Friend Star Prize entry. You can read more about the scheme here, and keep letting your families and workmates know about RIFT. They'll get the tax refunds they're owed, and you'll get some cash in your pocket – and a chance to win a whole lot more. When we all play the game together, everyone wins.
---