A RIFT Guide to Christmas Shoppers​
29th October 2020
When it comes to the festive season, failing to plan means you're planning to fail. You don't necessarily need to budget your Christmas Campaign with military precision. However, just hurling wads of money around like snowballs is a recipe for a festive fiasco. Whatever your seasonal strategy, the chances are you're somewhere on our list of Christmas shopper types. Remember to check it twice.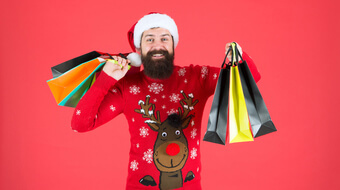 The Last-Minute Berserker
We pretty much all start out this way. The problem is we don't all grow out of it. Time becomes... strange when you're stuck in your home for half the year, and Christmas just has a way of creeping up on you. We're gone from tan lines to tinsel in what feels like days, and the Christmas rush has already begun before we've even washed the suncream off.
Waiting until the last week before dashing to the shops is sort of a British tradition, but it's starting to lose its popularity. In fact, we're ticking off our Christmas lists earlier each year. While die-hard Berserker types are still initiating their rampages deep into December, more and more of us are starting as early as August. Admittedly, leaving it all for later does mean you'll probably end up getting everything done in one go. However, a Berserker panic-buys where a more thoughtful shopper takes careful aim. 10 out of 10 for frenzied enthusiasm, but there's no way you're landing the best deals or picking the most appropriate presents.
The Splurger
When you're a Splurger, your worst enemy is yourself. Splurgers are never satisfied, constantly chasing the extravagances they hit last year. Sure, it all comes from a good place, but showing affection through crazy purchases never works. Worse still, you're fighting an escalating arms race with your own bad decisions – and that'll get out of hand fast. This year, Splurgers are set to drive the cost of an average British Christmas sky high, rocketing up 25% over last year to £965 a head!
Splurgers are never satisfied that the presents they buy are "big" enough. It's understandable that we all want to end 2020's rough road to nowhere on a high note, but stacking up debts for next year is the flat-out worst way of doing that.
The Thinker
If it really is the thought that counts, then these shoppers are truly ahead of the game. Instead of buying into the herd mentality of the sheep-shopper crowd, they turn a deaf ear to the advertisers and influencers and go their own way. Thinkers start with what they know about the person, then decide on the present from there.
It's a pretty good plan, too. A typical Thinker present might be hand-made, and probably unique. There are artists and craftspeople of all kinds on the internet, and a quick browse through Etsy can find you exactly the right, personalised gift for the job. Thinkers with crafting skills of their own are a true force to be reckoned with in the gift-getting stakes. You probably won't be unwrapping a PlayStation 5 from one any time soon, but whatever you do get will be hand-picked and pinpoint-targeted. It probably didn't cost the Earth, either.
The Digital Native
High street shops are becoming an endangered species in a socially distanced world, but the Digital Natives have been training for this revolution their whole lives. They've got online accounts and loyalty discounts on dozens of web stores, and can get the whole world delivered straight to their door in 24 hours.
Not all Digital Natives are wise shoppers, of course. It's as easy to make bad decisions online as in the real world, after all. However, they've got some legal protection that reality-based shoppers tend to lack, plus they're veterans in the price comparison game. It's always tempting to let your inner Splurger loose online by buying everything at once. The true Digital Native, though, is a natural sniper, relentlessly stalking bargains and picking off targets when the time is right.
The Master Strategist
Impressive as they are, the Digital Natives are still just talented amateur shoppers compared to the real price predators staking their territorial claims through the festive period. Master Strategists are always thinking several moves, and months, ahead. By the time you've getting into the game, the Master Strategists have already won. We're talking about diligent, meticulous, long-term plotters here. They combine the best instincts of their Thinker and Digital Native cousins, but they spread their spending out a lot more effectively. These are the people who are already calculating their future festive angles during the previous year's post-Christmas sales. They hunt their quarry throughout the year, only striking at the optimum moment. It takes discipline, but the ones who've learned to hold their nerve are among the most dangerous forces on the Christmas battlefield.
So, that's a quick spotter's guide of some of the major types of Christmas Shopper you'll see flocking today's UK high streets and websites. Did you recognise yourself in the list? Are you some strange new hybrid or species we haven't encountered yet? Get in touch to let us know – and while you're at it, make sure you're sorted out for your next RIFT tax refund!
RIFT are the UK's leading tax rebate and tax return experts who've been in the business since 1999. If you want to know if you're owed tax back, check out our free and instant tax refund calculator for an estimate of what you could claim back from HMRC.
---