A RIFT Guide to Christmas Shoppers​
18th November 2019
When it comes to the festive season, everyone's got a plan. Maybe you budget with military precision, maybe you just hurl wads of money at the festive season until it's over. Whatever your personal seasonal strategy is, the odds are you're somewhere on this list. Here's a quick guide to the pros and cons of the major types of Christmas Shopper.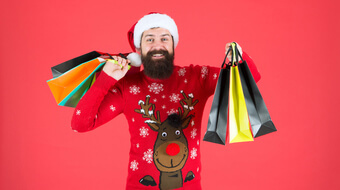 The Last-Minute Berserker
Pretty much everyone hits this stage at some point. Christmas just has a way of creeping up on you. One minute you're admiring your summer tan lines, the next you're spotting suspicious trees sprouting in department store windows. Out of nowhere, the rush has already begun before you've even got your flip-flops off. Waiting until the last week before dashing to the shops is sort of a British tradition. It does mean you'll usually end up getting everything done in one go, but you'll be panic-buying without enough time to make good present choices or pricing decisions. 10 out of 10 for frenzied enthusiasm, though.
The Master Strategist
At the other end of the scale, we've got the people who treat the festive season like a super-villain treats a world-domination plot. They're meticulous, long-term planners, making lists throughout the year and systematically sniping off presents when the prices are right. Honestly, a lot of these people are reformed Last-Minute Berserkers who got stung once too often and changed their ways. They've got all the angles figured, and they've probably spent less doing it. It's not an exciting way to live, but it's efficient if you can keep yourself organised. There's nothing worse than a Master Strategist who hasn't quite got their game down. That one nephew you forgot to buy for can bring those Berserker tendencies flooding back in a rush. Maybe ease yourself into the mindset by starting your planning in November.
The Digital Native
You'll find a lot of these types around now. The whole face of shopping is changing, with high street shops giving way to online marketplaces and the whole world getting delivered to your door inside 24 hours. There's actually a fair amount of crossover between Digital Natives and other groups. After all, it's as easy to make bad decisions online as good ones. Luckily, there are some resources and tools online to help you steer clear of the worst digital dangers, whether you're earning cash back on your purchases or simply comparing prices. Research has never been easier, so make the most of what's out there. While it's tempting to take the easy route and buy everything at one site (like your Berserker brethren would), it's probably worth taking a page out of the Strategists' book. Weigh up the possible savings you're making on delivery charges against the fact you're probably not getting all the best deals.
The Thinkers
If it really is the thought that counts, then Thinkers have the whole Christmas game sewn up. Instead of following the sheep-shopper herd and buying whatever the adverts and "influencers" are raving about this year, Thinkers start with the person, then figure out the present from there. It generally works out pretty well, too. A typical Thinker present might well be hand-made, and will definitely be personally tailored to the recipient. Whatever it is, it'll be a decent fit for your personality and lifestyle (along with your collar size, which they've probably been quizzing you about for months). If they've got crafting skills and know their friends and family well enough, Thinkers can make for a memorable and inexpensive Christmas. The chances of getting that PlayStation you wanted from one are slim, though.
The Splurger
Like the Last-Minute Berserker crowd, we've probably all been a Splurger at one time or another. Splurgers are never satisfied, constantly caught in an unwinnable race against themselves. Chances are it all comes from a good place, but showing affection by extravagant purchases is a little weird, and sets up a climate of escalation that can get out of hand fast. At their worst, Splurgers can end up cheating both themselves and the people they're buying for. They're not satisfied that the present you actually want is "big" enough, so you end up with something more expensive that you've got no use for. If you genuinely believe that you can only express your affection financially, it might be time to expand your vocabulary a little.
So, that's a quick spotter's guide of some of the major types of Christmas Shopper you'll see flocking today's UK high streets and websites. Did you recognise yourself in the list? Are you some strange new species we haven't encountered yet? Get in touch to let us know – and while you're at it, make sure you're sorted your RIFT tax refund to cover the cost of Christmas!
RIFT are the UK's leading tax rebate and tax return experts, who've been in the tax industry since 1999.
---