Many Happy (Tax) Returns from RIFT​
08th January 2020
Well, 2019's well and truly in the rear-view mirror now and we're all busy breaking our latest crop of misguided but well intentioned New Year's resolutions. If you stick to one promise you made yourself for this year, though, make sure you get your Self Assessment tax return filed on time. The closer we get to the 31st of January deadline, the more difficult it's going to be to get your tax ducks in a row in time to avoid a fine. There's a lot of competition for the taxman's attention this time of year. Leaving your tax return until the last minute runs the risk of leaving you out in the cold if you need help or run into problems.
Thousands of people have been filing their Self Assessment paperwork over the festive season. A grand total of 3,003 of them actually took time out of Christmas Day itself to get it done. The peak hour was between 12pm-1pm, when 245 tax returns were filed. Those numbers went through the roof on Boxing Day, with 9,254 people sending in their returns, 946 of them during that same 12pm-1pm hour. The really big numbers were actually on Christmas Eve, though, with a whopping 22,035 Self Assessment returns being dumped down HMRC's chimney by British taxpayers. Looking at the very end of the year, things were still incredibly hectic for the taxman. 34,448 tax returns were submitted on New Year's Eve alone, with another 17,000 or so coming in on the 1st of January 2020.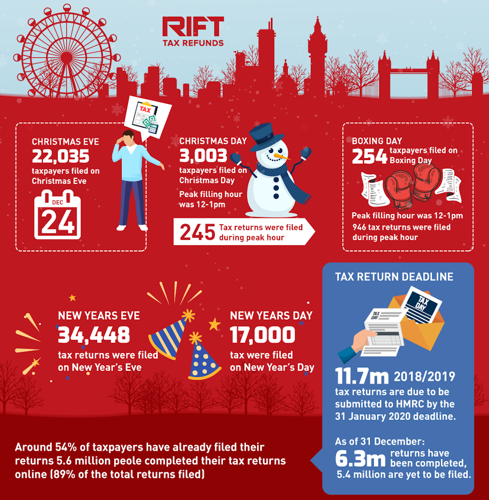 Even with all this last-minute paperwork going on, there are still plenty of people who haven't got round to it yet – and it could well end up costing them. There are around 11.7 million people using the Self Assessment system right now. That's 11.7 million tax returns HMRC has to process every year. As of the 31st of December 2019, however, only 6.3 million of them had come in. That leaves 5.4 million people (about 46%) still dragging their heels over their Self Assessment – and now they've got just a few weeks to avoid trouble.
About 9 out of 10 people who use Self Assessment file their yearly returns online, and there are far too many of them leaving it far too late.
What is the tax return deadline?
The penalties for missing the 31st of January deadline start at £100 and just keep on getting worse until you get it done. On top of that, you're not just putting yourself in the sights of an unhappy HMRC by filing late. You're also giving denying yourself a potentially crucial run-up. The sooner you file, the more warning you have about how much tax you'll be expected to pay. With the tangle of ever-changing tax rules and thresholds you're up against each year, it's all too easy to guess wrong and end up owing a lot more than you expected.
The deadline to pay your tax is the same as the one for filing your Self Assessment tax return – the 31st of January. When you file at the last minute, you're taking a blind stab and hoping you've got enough cash to pay what you owe. By giving the information HMRC needs to calculate your tax bill earlier, you're making sure you have as much notice as possible and avoiding any sudden, nasty surprises. Even if they don't end up getting hit with HMRC penalties, a lot of people find themselves leaning on expensive credit cards to cover unexpectedly high demands from the taxman, and that kind of debt can stack up interest high enough and fast enough to be a real problem.
Check if you need to submit a tax return
Remember, there are many reasons you may have to submit a tax return to HMRC. It's not just for self-employed people.
Have a look at our self-assessment checklist, and give us a call if you aren't sure. Just don't leave it too late!
A very happy and prosperous New Year from all of us at RIFT – and get in touch if you need help with your Self Assessment paperwork. We can explain the whole system, with all its opportunities and pitfalls. Better yet, we can tackle the taxman for you ourselves, sorting out your returns to keep both you and your money safe.
RIFT have been in the industry since 1999 making us the UK's leading tax return and tax rebate experts.  
---